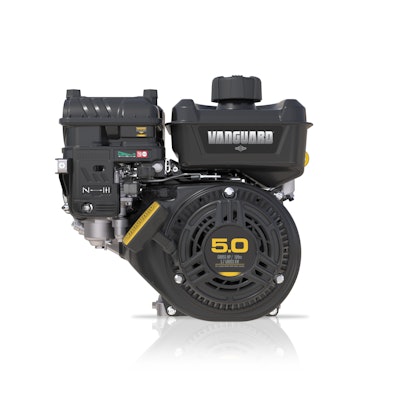 Vanguard is well known for its V-twin engines, so it was big industry news when they rolled out a new line of single-cylinder, horizontal shaft engines at the recent World of Concrete show.
There are four engines in the new lineup the 400 (14 hp), 300 (10 hp), 200 (6.5 hp) and 160 (5.0 hp.) They're geared for equipment used in a wide variety of applications including concrete screeds, trowels and vibrators, tillers, generators and pressure washers.
Before undertaking the new design, the company spent six months surveying customers wants and needs. "Power and start-ability were a given, says Michael Logan, product manager for small horizontal engines. But customers also wanted easy maintenance and parts availability."
In response the company engineered these engines for reduced maintenance and maintenance costs, says Logan. The two primary maintenance intervals were cut in half. A cyclonic air filter comes standard and results in a 600 hour air filter change, and the oil change interval extends out to 200 hours. Over the life of the engine (about 2,000 hours) these will cut the maintenance time and cost in half, he says.
The new engines are also quieter and smoother running. The carburetor has a special coating which prevents the fuel from gumming up over the winter. A transport guard shuts off the fuel line automatically whenever you stop the engine. This prevents fuel from leaking down into the oil sump when the engine and machine are bouncing around in the back of a truck. "Rental houses love that feature because they don't get their machines back with fuel contamination in the oil," says Logan.
Vanguard also made these engines easier to start. You simply push the throttle and choke levers forward with one hand and give light pull on the cord. The engines will start in temperatures as low as -20 degrees Fahrenheit.
From a competitive standpoint, one of the most significant features is that the new single cylinder engines from Vanguard will work as drop in replacements for Honda engines with the dimensions and mounting brackets perfectly aligned with their competitors.