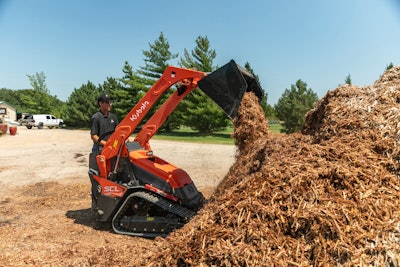 While admitting it has taken its time to enter the market, compact equipment giant Kubota unveiled its first model in the mini skid steer/compact utility loader segment, the 1,000-pound rated operating capacity SCL1000, Wednesday at ConExpo 2020. The machine will be available in the second half of the year.
Kubota says it aimed the 1,000-pound rated operating capacity machine at one of the faster growing size segments in the exploding CUL market. "Our customers and dealers were telling us they needed a bit bigger machine than the smaller units that are out there. We thought this would be a good entry point," says Tim Boulds, Kubota construction equipment product operations manager.
So how is Kubota distinguishing its product — which it calls a stand-on track loader — in a field with both long-established players (Bobcat, Toro, Ditch Witch, Vermeer, Boxer) and newer entries (Kanga, Sherpa)?
One way is having a standard 9.8-inch wide track compared with the more typical 7-inch track, all while still maintaining a 36-inch wide total machine width, Boulds says. The wide track has a 4.0 psi ground pressure, giving the machine a softer footprint on sensitive areas.
The SCL1000 also features a keyless start and password protection on its dash, "and no one else has that," Boulds says. With a 5.1-mph top speed, which Kubota says is best in class, the machine can also reduce time on the job as it quickly maneuvers through gates and other tight quarters.
In addition, the vertical-lift unit has a sealed-and-lubed undercarriage that's welded to the the mainframe of the body. The loader boom also has an SVL compact track loader heritage, Boulds says.
Powered by a 24.8 horsepower turbo-charged Kubota diesel engine, the SCL1000 has a hinge pin height of 84.7 inches and a reach of 25.9 inches at a 45-degree dump angle.
The machine has pilot-operated controls. "We brought that from our compact track loaders because our customers really enjoy the controllability and ease of use," Boulds says. Push-button control of auxiliary hydraulics is incorporated in the loader control handle.
Operator comfort is increased through cushioned loader boom cylinders and an adjustable platform suspension system. The loader comes standard with a keyless start with passcode protection, 12-volt charging port and a 4.3-inch LCD color dash monitor.
Kubota is releasing five attachments with the machine, in a partnership with its Land Pride division: pallet forks, auger, high-capacity bucket, compact skid rake and a trencher. In fact, the machine itself is being built in the Land Pride plant in Salina, Kansas.