When it comes to construction equipment marketing, there always needs to be a Plan B.
Plan B came immediately into play for Volvo Construction Equipment when parent Volvo Group announced on Thursday that it was withdrawing from ConExpo 2020 due to coronavirus safety concerns. Its statement was amended on Friday to say that the full exhibit would be on display (with some exceptions which we'll talk about later), only that no Volvo employees would staff the booth.
Throughout the show, attendees visiting it the Volvo CE booth in the Festival Grounds are greeted by a local staffing agency employees wearing Volvo logo wear. After pleasantries, visitors are handed a card with three QR codes: one to talk to product expert, one to get an email with product information, and one to download the Volvo CE Insider app.
In addition, machines in the exhibit feature QR codes that go to a product manager doing a video walk around.
Prominent throughout the booth are "Sorry we missed you" signs with the same QR codes.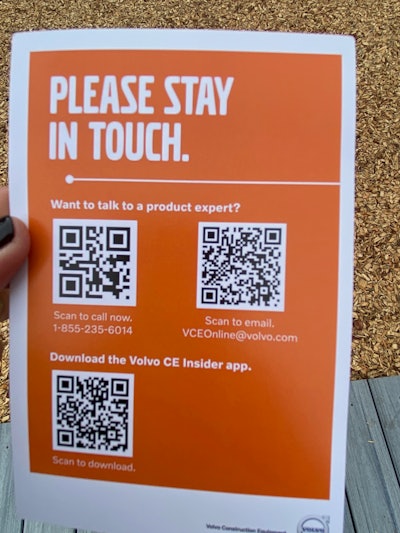 "This is something we could do quickly," says Dave Foster, vice president of marketing and communications for Volvo CE's North American operations. "It was the quickest way to connect with people." Volvo CE made the decision to go this route on Saturday, he says, and lined up materials and signs through Monday night, when Volvo CE employees left the booth prior to the show opening on Tuesday.
Volvo CE had experimented with QR codes at its recent Volvo Days event in Shippensburg. "We found they worked on about 90 percent of the phones," Foster says.
If an attendee chooses to use the "talk to a product expert" code, they are connected to a call center to validate their interest and then connected to a product expert. "We won't see the results of the first day until later today," Foster says, speaking to Equipment World on Wednesday morning.
A couple of concept products in the back of the booth are still under wraps. "We want to give them their due," Foster says, and so they will be revealed after the show. And the two machines in the ramp centerpiece – the EC950F excavator and the R100E 100-ton rigid hauler – will also be shown at MINExpo this September.
"Ideally this would be happening face to face, but we feel this is the safe way," Foster says. "If we say safety is one of our core values, then people would have questioned our safety [if we stayed]. It was the right decision."
Several Volvo CE personnel are still in Las Vegas – but not at the show — and will take down the exhibit when the show ends on Saturday.