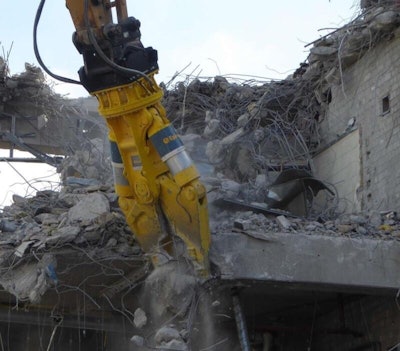 Epiroc's new Combi Cutter CC1600 comes in weighing less than previous models yet maintaining similar cutting force and cycle times, the company says.
The concrete and steel cutter is compatible with excavators of 13 to 23 tons and is designed for greater stability during demolition work. It weighs about 3,000 pounds and has opening and closing cycle times of 1.3 seconds each. Cutting force at jaw tip is 217 pounds.
Features on the new cutter include improved jaw and main body design, inverted design of the hydraulic cylinders, enhanced bearing protection, wider and more robust bearing points, and more protection for the crushing teeth on the Universal, or U-version, jaw set.
The U-version jaw set is for light- to medium-duty building demolition and heavy-duty industrial demolition, such as heavily reinforced concrete. The Steel-cutting, or S-version, jaw set is designed for cutting steel profiles in general steel structures. Both versions can be used for secondary reduction and material separation.
Jaw types can be easily switched on the jobsite with Epiroc's Coupling and Positioning System. The cutting blades of all versions are reversible and replaceable.
The two jaws of each cutter move independently to eliminate displacement forces on the cutter and excavator, which increases control when tackling unstable walls. The CC1600's cutter body has two hydraulic cylinders with integrated speed valves to reduce cycle times, which the company says leads to lower fuel consumption. The cylinders deliver constant closing force that remains high even when the jaws are almost closed, Epiroc says. Continuous 360-degree hydraulic rotation enables precise positioning and handling.
Operating pressure is 5,075 pounds per square inch, and hydraulic oil flow ranges from 39.6 to 66.2 gallons per minute.