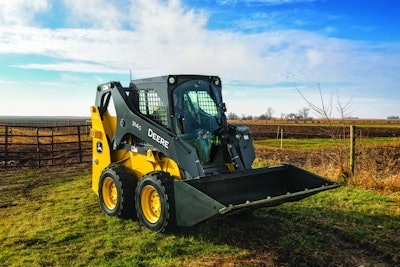 John Deere is now offering what it calls a "low monthly payment" lease on its three of its latest compact loaders.
Under this new program, U.S. customers can lease a new skid steer for as low as $379 per month.
"We continue to see a growing need for compact construction equipment, and this program ensures our customers have access to John Deere equipment that fits within their budget and helps their businesses prosper," says division manager Juan Raya of Deere Compact Construction Equipment. "The program provides flexibility for customers maintaining small fleets, such as those working in the landscaping industry or getting their businesses off the ground."
Models covered under the new program the 314G and 318G skid-steer loaders, and the 317G compact track loader.
Deere has not provided the full pricing breakdown, but says "a skid steer with a canopy starts at $379 per month; or, with a cab option, starts at $429 per month."
You can get full details on the new program from your local Deere dealer.