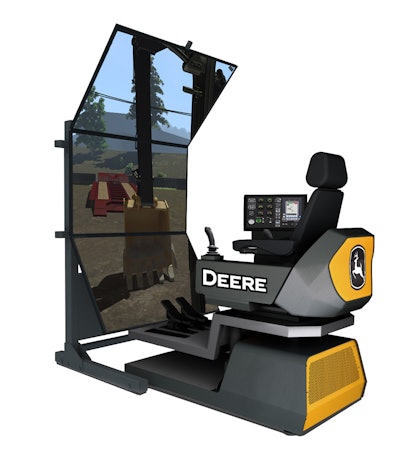 John Deere has introduced a new line of operator training simulators that can be outfitted as several types of equipment.
The new simulators combine interchangeable joysticks and foot pedals with realistic 3D software. The software creates "highly-detailed" environments that lead operators through advanced operator duties and multiple jobsite tasks.
Deere Construction & Forestry manager of learning technology, Jon Goodney, says that the simulators not only teach operators in training the basic control functions of each respective machine, but also work to improve hand-eye coordination, technique and safety.
Deere says the simulators feature a performance function to measure student progress as well. The simulators can be coupled with free online training available through John Deere University.
With a quick swap of joysticks and pedals, these simulators can switch between training for the following:
Backhoe
Crawler dozer
Excavator
Wheel loader
Joystick-controlled motor grader
Fingertip control motor grader
Deere says the new backhoe, excavator, and motor grader simulators will be available this spring, while the crawler dozer and wheel loader will be available for purchase this summer.
The new simulators will make their public debut at next week's Bauma 2019 trade show in Munich. To learn more, contact your local John Deere dealer.