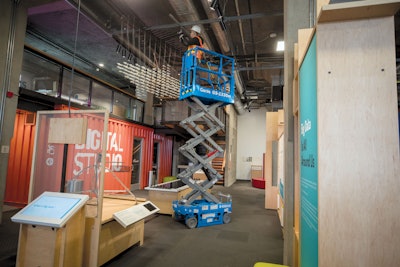 Genie's two-person, 500-pound capacity GS-1330m "micro-sized" scissor lift offers low-level access to areas that may have traditionally been accessed by ladders.
"The 'm' stands for micro, so it's a new class of slab scissor that's really compact," says Mike Flanagan, Genie product manager, Terex AWP, in comments to Equipment World at the recent American Rental Association Show. "Despite it being such a small machine, you can put two people up there. It will do well in space and weight restricted applications."
The 1,950-pound unit has a maximum platform height to 12.8 feet and maximum working height of 18.8 feet. Equipped with an all-electric DC drive system, the GS-1330m can be driven at full height and, in a stowed position, climb up 25 percent grade slopes. "This is our first electric-dive slab scissor product," Flanagan says. "It gives us an incredibly smooth drive control and a run time and performance that will last throughout a full work shift."
The unit's low weight also gives it the ability to be on jobs that were previously off limits to heavier slab scissor and vertical mast lifts.
"The key there is that it's under the 2,000-pound limitation for a lot of elevators," Flanagan says. "This can get into these elevators where a standard size scissor cannot." Flanagan notes that the unit still has all of the swing out trays and service access of other Genie slab scissors.
In compliance with ANSI and CSA standard changes in North America, the scissor is equipped with platform load sense, alerting operators when they've overloaded the platform. The scissor also has added toeboards on all entrances and standard platform swing gates.
"A key spec for us was being able to drive this scissor through a door without having to fold the guard rails down," Flanagan says. Side-by-side platform guardrails allow easy deck extension and retraction.
The model uses the Genie Smart Link control system, designed to simplify onboard troubleshooting with easy-to-read and user-friendly machine adjustments and diagnostics. The system is also compatible with the Genie Tech Pro Link handheld diagnostic tool.