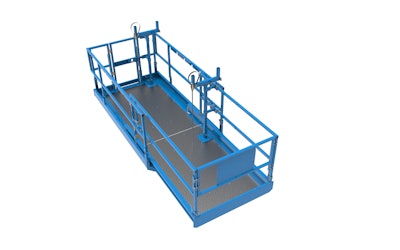 Genie has introduced a new attachment for its rough terrain scissor lifts to allow higher load capacities when raising materials.
The Genie Lift Tools Material Carrier is designed to take on heavier loads than standard pipe cradle attachments, and it can handle more than one pipe. It can also be used to lift a variety of other items, including lumber, siding, and HVAC and plate materials.
Genie designed the material carrier to meet proposed new standards by the American National Standards Institute (ANSI) and by the Canadian Standards Association (CSA) for mobile elevating work platforms.
The material carrier can be used on such jobs as tilt-up construction, post-frame building construction, fire-suppression installation, heating and air conditioning installation, roof work and facility maintenance, Genie says.
It can be installed as an aftermarket part on Genie GS-2669, GS-3369 and GS-4069 DC and RT rough terrain scissor lifts, with capacities ranging from 350 to 700 pounds. Installation and removal times are less than 20 minutes each, the company says. It is also available as a factory option for the scissor lifts.
The material carrier can be positioned on the scissor lift's main platform or extension deck and can still be used with the extension deck retracted. It can also be installed laterally or longitudinally.
"Rough terrain scissors are employed in an increasingly wide range of applications, and with the platform size and capacity to bring multiple occupants and their supplies, we want to make sure that operators can safely and securely transport materials in the platform to the jobsite," says Mike Flanagan, Genie product manager, Terex AWP.
The material carrier is available in North America. Genie says it is evaluating it for introduction into parts of Europe, the Middle East, Africa and Russia, pending CE certification and country-specific regulations approval.