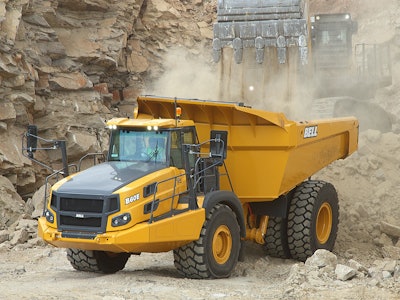 Bell Equipment will show off its latest "crossover" model, the Bell B45E 4×4 articulated dump truck, configured to address niche applications in the mining and construction industries.
In addition to large mining and quarry sites, Tristan Du Pisanie, Bell Equipment's ADT marketing manager, says the model is also targeted toward small-to-medium-sized mining or quarrying operations with lower production tonnage. "With comparable performance to rigid dump trucks on well-tended, dry underfoot conditions," he says, "the two-axle trucks score in all-weather conditions when the haul roads deteriorate or become slippery."
In addition the model offers a more economical solution compared with 4×2 rigid frame trucks that are designed for high top speeds over long distances, Pisanie says. Savings are realized in lower fuel consumption and less tire wear. "After several thousand operating hours, in direct comparison with 4×2 rigid trucks of the same size, operators reported a 65 percent lower wear on the rear twin types of the Bell B60E," he adds.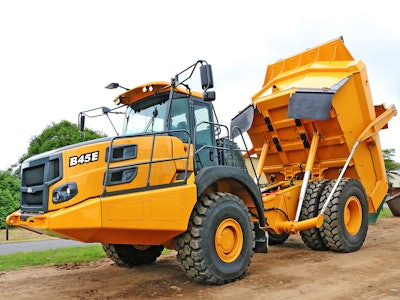 The front half of the model is essentially the same as its 6×6 counterpart, while the rear chassis follows the design of Bell's B60E 4×4 model, designed for mining applications. Powered by a 523-horsepower Mercedes Benz engine, the model has a seven-speed Allison automatic transmission and wet brakes on both axles.
The 32.69-cubic yard body is mounted on a 55-metric-ton axle supplied by German manufacturer Kessler. The body resembles a rigid dump truck rock body and uses bottom-mounted telescopic tip cylinders. With its wide geometry and flat-bottomed floor, the model fits well with typical quarry loading equipment, offering better filling characteristics when compared with the longer 6×6 bodies, says the company.
The body configuration, which doesn't have the traditional articulated dump truck dovetail is also better at minimizing carry-back when compared to its 6×6 counterpart, Bell says.
The 41-metric-ton truck can be equipped with Bell's Comfort Ride adaptive front suspension system for a smoother ride.
Bell Equipment received the first six Series 1000-1500 MTU engines from Rolls-Royce that meet the new European Stage V emission standards. Bell has been testing two Stage V prototypes since 2016. Rolls-Royce has tested around 100 MTU engines with various manufacturers in the past few years, with putting in more than 110,000 operating hours during testing.