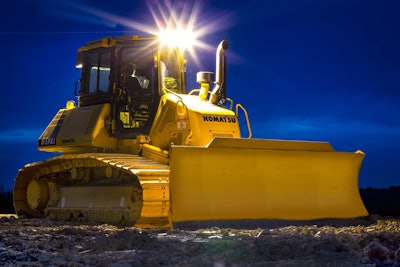 Tagging along with the launch of a new radio control option on its largest semi-auto dozer and the addition of two new semi-auto excavators, Komatsu has upgraded its first ever machine equipped with intelligent Machine Control (iMC).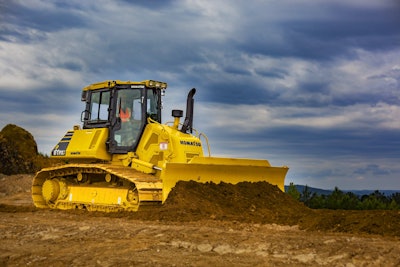 Unveiled in June 2013, the D61i dozers were the pioneering machines in Komatsu's iMC lineup, introducing the concept of a dozer shipped from the factory with integrated GPS/GNSS machine control hardware—using no blade-mounted antennas—and the ability to operate in automatic mode from rough dozing through finish grading.
Of the more than 1,000 iMC machines sold to date, Komatsu says the D61i is their most popular model.
The new D61EX/PXi-24 dozers improve over the first generation Dash-23 models with powertrain enhancements found on the non-iMC-equipped D61-24 models, which were introduced in October of last year.
The D61i-24 dozers are powered by a 6.8-liter Komatsu SAA6D107E-3 Tier 4 Final engine producing 168 horsepower.
Like the non-iMC D61, the D61i-24 models now feature on-the-fly performance customization through the ability to choose between a quick-shift, three-speed mode and a variable, 20-speed customizable transmission mode.
The new model also consumes less fuel thanks to these powertrain improvements as well as features new to this machine like auto-idle shutdown and economy power modes.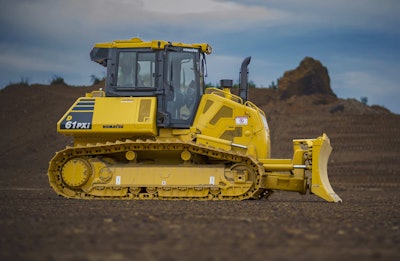 Due to the iMC technology on board, Komatsu says the D61i-24 boosts productivity by 8 percent over typical aftermarket start-to-finish machine control systems. The company points out a considerable amount of time is saved over these third-party systems since the operator doesn't have to mount external hardware to the blade.
Inside the cab, Komatsu has included a 7-inch high-resolution monitor which displays real-time fuel economy and diagnostics should the need to trobleshoot arise. The monitor also displays the view of the machine's rear-view monitoring system, which is a standard feature.
Included at no cost with the D61i-24 machines is Komtrax telematics, allowing operators and fleet managers to keep up with the machine's fuel levels, operating hours, location and more while providing cautions and maintenance alerts via a website or a smartphone. Additionally, Komtrax monitors DEF levels, ambient air temperatures and pressures.