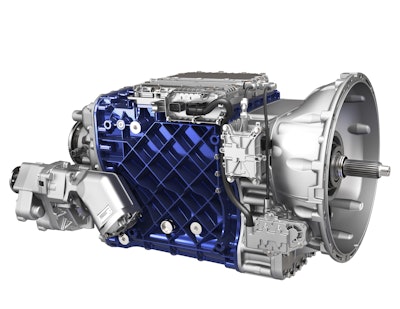 Volvo Trucks North America introduced at its Hagerstown, Maryland, powertrain assembly plant a new I-Shift automated manual transmission (AMT) featuring crawler gears.
Designed with crawler functionality and startability, John Moore, Volvo's powertrain product marketing manager, says I-Shift with Crawler Gears is ideal for applications requiring a slow speed and maneuverabilty – like concrete mixers with curb-pouring capability, asphalt paving, spreaders, dump trucks, heavy haul and line painters.
The I-Shift with Crawler Gears also ensures startability for heavy haul and up to 220,000 lbs. GCW or more with application approval.
I-Shift with Crawler Gears will be available in two versions:
14 forward gears, including one low crawler gear (19.38 gear ratio) and one ultra-low crawler gear (32.04 gear ratio), which can operate down to 0.6 mph with 3.58 rear axle ratio. "We can do .6 miles per hour," Long adds. "That gives us extremely slow speeds and increased maneuverability."
13 forward gears, including one low crawler gear (17.54 ratio). Available as an overdrive in Volvo VHD, VNX, VNM and VNL models, the I-Shift with Crawler Gears can be spec'd with Volvo D11, D13 and D16 engines.
"We're going to bring fuel efficiency to the heavy haul market," Long adds.
Both the 13-speed and 14-speed versions will be available as an overdrive configuration.
Jason Spence, Volvo Trucks product marketing manager says the Crawler Gears option adds 90 pounds, including gearing and oil, to a standard I-Shift.
Production is scheduled to begin in October.
Volvo says the gears and other hardware used in the I-Shift with Crawler Gears have been hardened to withstand frequent shifting, and the transmission received additional updates to improve shift performance and overall durability, including improved split synchronizer components, an updated engaging sleeve and main box parts fashioned from reinforced material.
The transmission's software has also been optimized for shifting in high-weight applications.