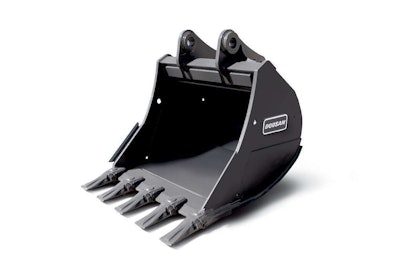 Doosan has launched a new line of severe-duty excavator buckets made with abrasive-resistant material.
The new buckets range in size from 18 inches to 72 inches and are available in a pin-on or wedge-lock style for Doosan's DX140LC-5 all the way through the DX530LC-5 crawler excavators.
The buckets are built for handling abrasive materials in heavy digging and loading applications such as in loose rock or pit and quarry operations. Specifically, the buckets' side cutters, shell bottom, side wear plates and a weld-on wear shroud are made of the heavy duty material.
The wear pads provide extra protection from rocks and irregular materials while a thicker cutting edge and an abrasive-resistant wear strap make easier work of tougher jobs and increase the longevity of the attachment.
The machine-fitting joint on the bucket is strengthened with reinforcing gussets.