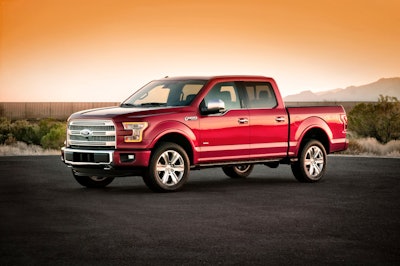 Ford has issued safety recalls on three of its vehicle lineups of particular interest to construction and the trades.
The automaker is recalling 177 2016 F-650 and F-750 vocational trucks due to a faulty rear air brake chamber. According to the company, the air brake jounce hoses could contact the vehicle's rear axle housing during vehicle operation, which could cause a leak and inadvertent application of the parking brake or diminished braking performance—increasing the risk of a crash.
Ford is also recalling approximately 3,200 2015 Ford F-150 SuperCrew trucks to replace the front safety belt retractor and pretensioner assembly. A defect in manufacturing could prevent the assembly from properly restraining an occupant in the event of a crash, Ford says.
Finally, the company is recalling approximately 1,300 2015 Ford Transit vans due to faulty rear axle shafts. Ford says the shafts could fracture, either causing a loss of motive power without warning while driving, or unintended vehicle movement when the vehicle is in park without the parking brake engaged, increasing the risk of injury or crash.
Ford is not aware of any accidents or injuries related to any of these issues and will make the necessary repairs for each at no cost to the customer.
You can check on the recall status of your vehicle by visiting the company's recall website and entering the truck or van's VIN.