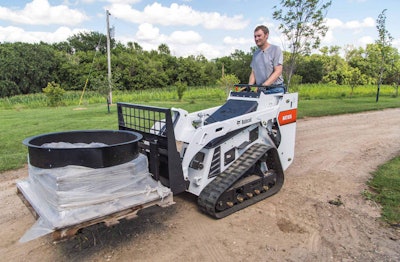 On the heels of new mini loader announcements from Toro and Ditch Witch, Bobcat has launched its latest diminutive track loader, the MT85.
Boasting upgrades in power, lifting capabilities and stability, the MT85 is engineered for contractors, landscapers and certain farming applications. The machine is powered by a 25-horsepower, Tier 4 Final engine and features a higher forward travel speed of 4 miles per hour with 2.3 mph while in reverse.
Bobcat's latest mini loader has a rated operating capacity of 850 pounds—35 percent higher than its predecessor—with a 12-percent increase in lift height to 90 inches. In addition, breakout force is 29-percent higher than Bobcat's MT55 loader.
The MT85 also benefits from higher ground clearance and an additional 6 inches of track length on the ground for added stability.
Another change with this new mini loader is Bobcat's decision to transition to ISO joystick controls. The drive function is controlled by the left stick while the right stick controls lift and tilt functions. Bobcat says gauges and dials on the dash remain unchanged from the MT55.
An operator presence/safety pedal is another addition, regulating the auxiliary hydraulic flow for attachments. Bobcat says the pedal must be engaged when an attachment is in use with detent hydraulic flow.
For comparison's sake, the MT85's 850-pound operating capacity comes in just below Ditch Witch's new SK752 at 860 pounds, and well below Toro's new TX 1000, rated at 1,000 pounds. During our talk at ICUEE, Toro representatives told me their focus on power has come as a result of seeing customers' willingness to use one of these mini loaders for jobs they typically would have done from a compact track loader or skid steer.