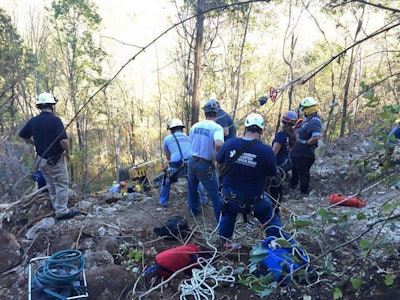 An excavator operator part of a crew on a highway job in Virginia was killed late last month when his machine overturned.
According to a report from WSLS TV, 64-year-old John T. Ferguson was moving the excavator from a work zone on North Fork Road in Elliston Oct. 22 when the ground gave way beneath the machine, causing it to overturn.
According to a report from WSET TV, crews were working on "steep terrain," seen in the photo above taken by the Blacksburg Rescue Squad. After overturning, the machine came to a halt well down the mountainside from the highway and Ferguson was trapped underneath.
Rescue crews were able to reach him but he was pronounced dead at the scene.
"We had to haul a stokes basket back up to the road where we could get him loaded into the vehicle to move him down the mountain. And then all the rescuers that were downhill, of course had to be brought back up the hill as well," Sid Bingley, Operations Captain for the Blacksburg Rescue Squad, told WSET.
Ferguson worked for Faulconer Construction Company. Last week the company issued the following statement:
On October 22, Faulconer Construction lost a valued member of our team, John Ferguson, due to a tragic incident in a challenging construction environment.
Our thoughts and prayers are with the family of our fallen colleague, and with the rest of our team as they reflect on his integrity on the job site and legacy with the company.
In remaining true to our safety culture, we will focus our efforts on understanding the precise cause of the incident to enhance our company wide safety training programs.