The construction firms that weathered the recession all share a common trait: a willingness to adapt, to get lean and get resourceful.
If anyone has benefited from this new mentality among contractors, it's the rental industry, as construction business owners are much more open to owning only what they need and renting everything else. Meanwhile, manufacturers like Toro are paying close attention to their customers' shifting priorities.
"I think anybody who survived the downturn is more open to new ideas, and more creative because of it," said Toro spokesman Andrew Gillman. "So anything that can offer more information, or higher output they're all about that."
That type of customer input is the theme of Toro's booth here in rainy Louisville, Kentucky at the 2015 International Construction & Utility Equipment Exposition. And the company is using the show as a launching platform for its all-new Dingo TX 1000 tracked compact utility loader (CUL).
The TX 1000 is Toro's most powerful Dingo loader with a rated operating capacity (ROC) of 1,000 pounds. And though the TX 525 remains Toro's "most loved" CUL, marketing manager Josh Beddow said the company began hearing from some customers that they'd like to see a Dingo with more lifting capacity.
"The customers who really love the 525 started asking themselves, 'Do I really need a compact track loader or a skid steer?'" Beddow explains. "These machines are smaller and therefore easier to trailer, too."
And though the company doesn't expect a mass exodus from skid steers and CTLs to CULs, it decided to move forward with a more powerful Dingo in order to further entice those customers who were looking to downsize.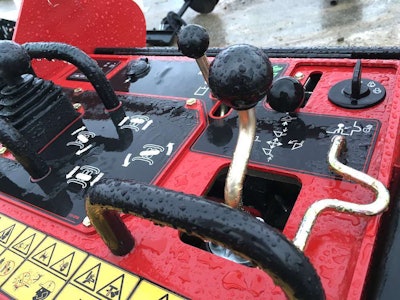 To achieve that 1,000 ROC, Toro engineers departed from the rest of the Dingo lineup and went with a vertical lift design rather than a radial lift. Beddow says the change offers a higher hinge pin height of 81 inches and keeps the load closer to the machine, offering greater balance.
Another CUL benefit Toro has heard its customers voice is that the machine can boost cycle times over skid steers and CTLs due to the fact that there's no cab to climb in and out of.
And while we're on the subject of operation, another departure from the existing Dingo lineup is the TX 1000's new control scheme. "Our intent with this scheme was to make it very intuitive so anyone could jump on," Beddow said. "And we wanted to position the controls in such a way to free up your other hand to run attachments and other things."
The machine is offered in a narrow track model weighing in at 2,610 pounds and a wide-track model which is 2,790 pounds. The wide-track model has an ROC of 1,075 pounds.
More than 35 attachments are available for the TX 1000 including a vibratory plow, a bore drive head and high-torque, high-speed trenchers.
Beddow said its Dingo customers are primarily landscape and general construction contractors. The company notes another potential benefit in the machine's small footprint. When compared to dedicated horizontal directional drills or vibratory plow units, the TX 1000's small footprint can minimize turf and terrain damage that can occur during utility installation.