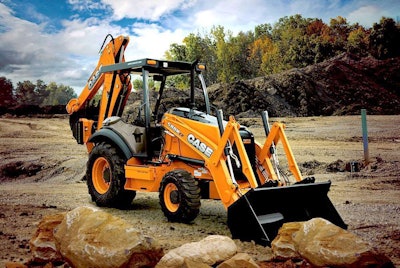 [imagebrowser id=200]
At The Rental Show this week, Case Construction Equipment revealed its 580N EP model, a lower horsepower option to its 580N model that takes certain features of the company's former M Series backhoes to create a lower cost option for rental companies and entry level contractors.
In addition, the company announced its entire line of backhoes is now Tier 4 Final compliant, a move that echoes a similar announcement made at the recent World of Concrete regarding its skid steer and compact track loader lineup.
The 74-horsepower 580N EP differs from the 90-horsepower Tier 4 Final 580N in more ways than horsepower, all while retaining the same performance specs on the critical backhoe end, says Katie Pullen with Case. "When you have an operator who is only running it intermittently, they're not going to look for all the bells and whistles," Pullen says. "We took out some of standard features on a 580N, including the ProControl system (an anti-rebound system on the backhoe end) and Easy Flex side lights."
Another difference between the EP model and the 580N is the loader arm design, Pullen says. "It's still very strong, but the arms are shorter so you have about 2 inches less below grade dig depth and shorter hinge pin height, but both of these specs are comparable with what we had with our M Series" she relates. The loader end on the EP model has 300 pounds less lift capacity than the 580N.
Even with these changes, the major cost savings is keeping the engine below 75 horsepower, which would mean additional emission aftertreatment requirements in Tier 4 Final. The EP version — which stands for "efficient power" — uses a diesel oxidation catalyst that does not require a diesel particulate filter or the use of diesel emission fluid.
In addition, the EP model uses Case M-Series stabilizers, which involve a leaner casting process than the N-Series stabilizers, another cost savings.
Case SiteWatch telematics are standard across Case's backhoe line, including the EP model, and come with a 3-year free subscription. A satellite option, instead of cell-only, is also available.
"As the industry starts to grow again, a lot of contractors who perhaps downsized to a small mini excavator but now need something with better dig depth and dump height, perhaps will want to invest in the backhoe, but may not want a Cadillac," Pullen says. "They only need the basics, and this is a good option for them. They still get the dig depth they need."
Tier 4 Final for all Case backhoes
The remaining N Series backhoes — the 580N, 580 Super N, 580 Super N Wide Track and 590 Super N — have Fiat engines with selective catalytic reduction emissions aftertreatment to meet Tier 4 Final standards. This aftertreatment requires topping off DEF, a practice recommended whenever fueling the machines. After that, says Case, owners will notice "no additional maintenance activities."