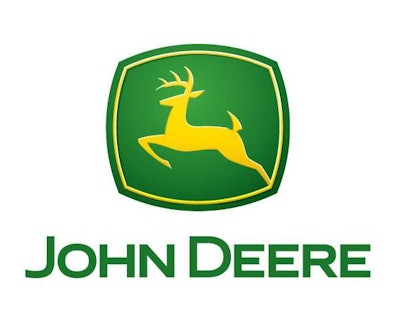 In recent years, as the effects of the recession were hammering the construction industry and the profit margins of heavy equipment manufacturers, John Deere posted 15 straight quarters of record earnings on the strength of its farm equipment sales.
And now, as construction is fighting its way back, a global slowdown in the agricultural sector has slashed the company's profitability despite improvements in construction equipment sales.
Deere's first quarter ended January 31, amounting to a fourth-consecutive down quarter with sales falling 17 percent to $6.4 billion and profit falling 43 percent to $387 million.
As Deere has stated in past earnings reports, the painful part of this global farming slowdown has been that it has greatly reduced demand for larger pieces of ag equipment, specifically.
The company's farm and turf equipment sales fell 27 percent during the quarter with operating profit for the segment plummeting 66 percent.
The company doesn't expect things to improve in the second quarter, forecasting a further decrease in sales of 19 percent. The company now expects sales to fall 17 percent for full-year 2015. Deere is now forecasting a full-year profit decrease of 43 percent to $1.8 billion.
In January the company announced that it would lay off 910 workers from factories in Illinois and Iowa that produce its farm equipment. Some of those employees were hired back on as part of line expansions in facilities that manufacture the company's construction equipment.
That said, Deere chairman and CEO Samuel Allen said the company has seen much worse in previous ag slowdowns.
"Even with a continued pullback in the agricultural sector, John Deere expects to remain solidly profitable in 2015," Allen said in a prepared statement. "Our forecast reflects a level of results much better than we've experienced in previous downturns. This illustrates our success establishing a wider range of revenue sources and a more durable business model."
The company's construction and forestry equipment sector is surely doing its part in stopping the bleeding with a 13-percent sales increase for the quarter. Operating profit in the segment rose 55 percent to $146 million.