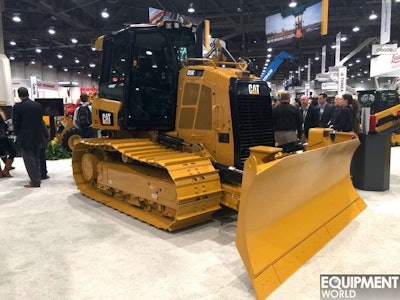 [imagebrowser id=186]
Because of its precision earthmoving capabilities, a dozer is one of the first machines a contractor considers upgrading with GPS grade control. But what about those contractors hesitant to take the $50,000 to $60,000 bite a full GPS system requires?
With Cat's new small dozer lineup–the 80-horsepower D3K2, the 92-horsepower D4K2 and 104 horsepower D5K2–the emphasis is on offering a small step up in grade control, a toe in the water that just might get machine owners ready for a deeper plunge.
Now standard on the K2 machines is Slope Indicate, a digital version of the traditional ball-in-the-glass slope meter, displaying the machine's blade cross-slope direction. This feature also shows the blade's main-fall, or fore/aft direction.
"Slope Indicate replicates a simple tool that tells him what slope he's on," says Joel Fritts with Caterpillar. "The operator doesn't have to guess what slope he's on any more because he knows by looking at the display on the tractor.
For a $6,500 increase–or basically a tenth of a full-fledged GPS system–owners can opt for Slope Assist, which automatically maintains pre-established blade angles. Cat says the system allows you to quickly attain consistent grades, conserve fill materials, and make less-experienced operators more productive.
"With Slope Assist in the basic mode operators can now grade to the slope he determines by the last grade control position he makes, " Fritts says. "The machine will automatically try to maintain that cross slope and main-fall blade angle. In the advance mode, you can actually enter a target cross slope and main-fall slope and the machine will grade to the target the operator selected."
Since one of the goals of Slope Assist is to get owners comfortable with–and curious about–GPS, the machines come plumbed for a full Cat AccuGrade Ready attachment, and can be easily upgraded to 3D capacity.
The K2 models also include Automatic Traction Control, designed to reduce track slippage when the machine encounters maximum load conditions. Unlike the previous K Series traction control system, which required operator interaction, this system automatically adjusts the machine to keep it moving steadily through a cut. Since the operator does not have to continually adjust the blade to prevent stalling, Cat says the system results in more consistent grades, reduced operator fatigue and longer undercarriage life.
An Eco Mode system gives the Tier 4 Final machines up to a 20 percent improvement in fuel economy, accomplished by reducing engine speed in less demanding conditions. Set one of two settings on the rotary throttle – forward/reverse or reverse only – and Eco Mode maintains engine speed at optimum levels.
The K Series Stable Blade feature assists the operator's blade-control to offer finer control and more consistent grades. An optional Power Pitch features allows operators to hydraulically adjust blade pitch during operation, giving more aggressive forward angles to load the blade and less aggressive angles to carry the load, a feature cat says can boost productivity by as much as 6 percent.