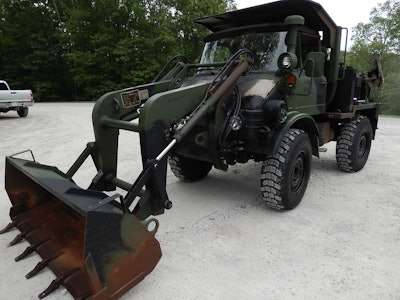 [imagebrowser id=86]
While the Unimog isn't a fixture on most U.S. construction jobsites these days, the same can't be said for those around the globe. Plus, the beastly Mercedes-Benz off-road vehicle is one of the most unique pieces of both the past and present of the construction equipment industry.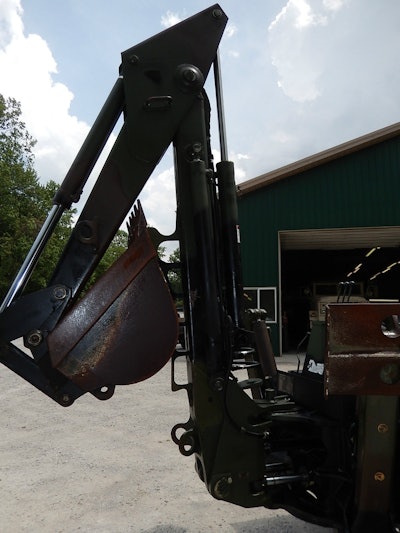 And while the 2014 Unimog is the most powerful Unimog yet, there's a model up for sale on eBay that you can have now for $25,000 that has to be one of the most capable ever produced.
The vehicle, first seen on the auction site by TruckYeah!, is based on the Unimog 419 model. This versatile piece of equipment was built for Mercedes-Benz by Freightliner back in 1989 and according to the truck's detailed description on eBay, the truck was completely rebuilt between 2010 and 2013. There are only 1,148 miles on the truck and 77 hours. It was built as a Small Emplacement Excavator (SEE) for the military.
The vehicle features a front end loader buck with capable of carrying .75 cubic yards. The Unimog's lift height is 98 inches and it will lift 3,300 pounds with a breakout force of 6,000 pounds. On back is a 14-foot Case backhoe with a reach of more than 17 feet and 10,000 pounds of breakout force.
But the coolest aspect about this Unimog is that the front bucket and backhoe can be dismounted leaving a powerful off-road-capable truck when you need it.
The truck is powered by a Mercedes 6-cylinder inline, 346-cubic-inch diesel pushing 110 horsepower. It's coupled with a 16-speed transmission and can reach speeds up to 50 miles per hour. Pretty fast for a backhoe. (Though you obviously don't want to travel that fast with the buckets attached.) The seller says the truck is outfitted with disc brakes and the front- and rear-differential will lock together providing true 4-wheel drive.
[youtube F0amZTjVW68 nolink]
The Mercedes 6 cylinder inline 346 cubic inch diesel runs strong and is rated at 110 hp. Behind that is a 16 speed transmission for all kinds of gear speeds. Top speed rated by the military is 50mph, but its not safe to go that fast if it will with all the attachments on. 35-40 mph is a safe top speed with the attachments on or you can go 45-50 mph with them off. It also has disc brakes. The 4×4 system works fine, the front and rear differential will lock together providing true 4 wheel drive.
The seller also points out that the has auxiliary hydraulics and can running "a variety of tools like a jack hammer, rock drill, impact, chain saw, and all other kinds of attachments."
For $25,000 this truck seems like a steal. If not for the capability, just for the cool factor alone.