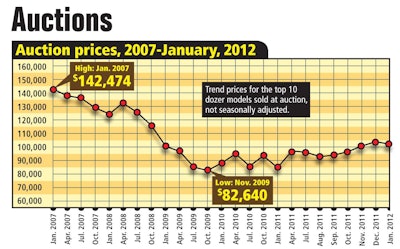 A snapshot of new and used sales trends from Randall-Reilly's Equipment Data Associates and TopBid auction price service.
Top financed model in 2011*

Caterpillar D6T XL
Runners up:

Deere 700 J
and
Deere 650 J
*Financed filings as of Jan. 31, 2012.
Source: EDA, edadata.com
Top 2011 sales states for new financed dozers:
Texas (163 units)
Pennsylvania (64 units)
Mississippi (50 units)
Louisiana (46 units)
$615,000
Top 2011 auction price, 260-to-360 hp, paid for a Caterpillar 2010 D8T
at a Ritchie Bros. Auctioneers auction on Oct. 7.
Other top prices:
210-to-260 hp, $374,946, 2007 Caterpillar D7R XR-II, Oct. 26, Ritchie
160-to-210 hp, $280,000, 2009 Caterpillar D6T XL, Dec. 6, Ritchie.