ASPHALT PLANTS FEATURE COUNTER-FLOW TECHNOLOGY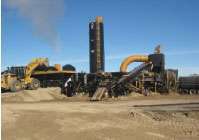 Lower asphalt temperatures with warm mixes from Milemaker Series asphalt plants by Asphalt Drum Mixers. The plants, which are available in portable, relocatable or stationary versions, mix in a 160- to 425 tons-per-hour range and use counter-flow technology. The Milemaker handles large amounts of recycled asphalt pavement without reducing the temperature or producing blue smoke, and it reintroduces residual gases back to the drum's combustion zone. Features include cold feed bins, horizontal and vertical hot oil asphalt cement tanks, direct-fired horizontal cement tanks, portable and stationary bag houses, mineral filler systems, recycled asphalt pavement systems, self-erect and stationary silos, weigh and drag conveyors, weigh batchers and fuel oil tanks.
Visit EquipmentWorld.com/info
ROLLER SIMPLIFIES WORK IN SMALL SPACES
Work in spaces as small as 78 inches with BOMAG'S BW278AD-4 AM tandem vibratory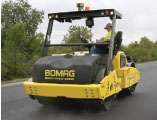 roller, which is equipped with Asphalt Manager II technology. The roller, which is powered by a 130-horsepower Deutz water-cooled diesel engine featuring an Ecomode system, produces a maximum frequency of 3,000 vibrations per minute, with vibration frequencies infinitely variable from 2,500 to 3,000 vibrations per minute and a maximum centrifugal force of 55,575 pounds. The roller has a cockpit with a sliding/swivel seat, an intuitive instrument cluster, a single hood, flush-mounted ROPS/FOPS, block-type drum isolators, hinged scraper bars, optional night paving lights and 318-gallon-total water tanks.
Visit EquipmentWorld.com/info
ROGERS TRAILERS MOVE MULTIPLE MACHINES
Haul multiple pieces of paving equipment with either of Rogers Blacktop Series' two new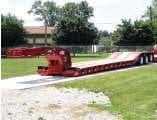 trailer designs: the Gentle Riser or the Sloper. The Gentle Riser features a 16-degree angle of incline from the deck to the rear frame. This design is available in 35- to 60-ton capacities with deck lengths ranging from 22 to 28 feet long, and from 8 feet 6 inches to 10 feet wide. Optional features include depressed riser center beams, a 20-inch loaded deck height and a 3-foot rear ledge with a bumper stop. The Sloper design features a continuous 5-degree, extra-long sloping deck with a rear extension, which can haul two machines in a single move and is available in capacities through 40 tons. Both Blacktop trailers feature the ground-hugging Croucher design, the No Foot self-lifting gooseneck and a self-aligning beam hook connection.
Visit EquipmentWorld.com/info
PAVER PERFORMS HIGHWAY MAINTENANCE JOBS
Perform highway and large preventive maintenance jobs with Bergkamp's M216 trailer-mounted slurry seal and micro surfacing paver, which can carry 16 cubic yards of aggregate, 1,500 gallons of asphalt emulsion and 1,000 gallons of water. The M216V features a 55-gallon stainless steel additive tank, an onboard engine, a belt-over-chain conveyor and steep hopper walls with polyethylene lining. The asphalt emulsion and water tanks are separate components, and because tanks are bolted in rather than welded, the pugmill, conveyor and all liquid material tanks are removable.
Visit EquipmentWorld.com/info
RUBBER TRACKS FIT MOST JOBS
Customize utility machines to fit the job with any of three replacement rubber tracks from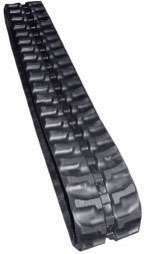 Rubbertrax. The multi-purpose track, which fits compact tool carriers, compact track loaders, some trenchers and directional drilling machines, will perform on various surfaces. The straight bar track, which fits directional drilling machines as well as dumpers and carriers, allows jobsite movement without getting stuck. The turf friendly track minimizes work surface impact. All tracks are made with continuous steel cords, embedded forged metal pieces, resistant rubber compounds, textile strips and a link balancing system.
Visit EquipmentWorld.com/info
ROCK CRUSHER GRINDS THROUGH HARSH CONDITIONS
Crush rocks for gravel road maintenance and other applications with the PTH 2500HD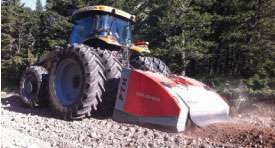 from King Kong Tools. The rock crusher provides continuous operation under harsh demands. The power take-off of a high horsepower engine drives the rock crusher, while multiple V-belts on both sides the rotor revolve up to 1,000 rpm, allowing the rugged carbide-tipped hammers and hydraulically adjustable wear-resistant counterblow bars to crush rocks up to 40 cm into the ground. All parts are bolted on and can be exchanged without cutting and welding. Optional features include additional crushing stages and carbide-tipped counterblow bars and tool holders.
Visit EquipmentWorld.com/info
TORFLEX AXLE LOADS LOW EQUIPMENT
Load equipment in a low-to-the-ground FT-24 I trailer with the 12,000-pound No. 14 Torflex

axle from Felling Trailers and Dexter Axle. The axle, which does not have hangers, springs or shackle bolts, uses an independent suspension with a rubber ride and doubles as a supporting crossmember. It is a large capacity axle which uses Dexter Axle's standard 12K components. The trailer, which can hold up to 24,000 pounds, comes with four radial tires, ten 19-pound I-beam frames and a white oak deck. Standard trailer features include electric Dexter Nev-R-Adjust brakes, four eight-bolt plate wheels, rubber torsion and Dexter Torflex suspension, an adjustable Lunette eye, two 12,000-pound drop leg jacks, 3-inch I-Beam crossmembers and eight
D-rings. Optional features include tank and pump mount hardware, rod storage door, track stops and three extra D-Rings.
Visit EquipmentWorld.com/info
SIDE DUMP ALLOWS FOR EASY MAINTENANCE
Haul and dump up to 24 cubic yards with the Clement SideStar2, which has a 39-foot long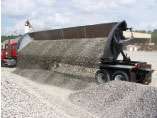 chassis and 34-foot inner body length. The SideStar2's hydraulic lines route through the frame's crossmembers for maintenance and accessibility, and its frame design allows for mounting push blocks or pintle hooks. Standard equipment includes two-speed landing gear, hutch 4-spring suspension, Sealco/Rockwell/WABCO 4s2m ABS braking system, two 5-inch double-acting dump cylinders with advanced seals and flow divide to cylinders, front and rear fenders, eight hub-piloted wheels and Bridgestone tires. Optional features include air ride suspension and 6-inch hydraulic cylinders. Visit EquipmentWorld.com/info
JET SIDE DUMP TRAILER MAINTAINS STABILITY
Maintain tub stability while decreasing tub acceleration and sudden stops with the Jet side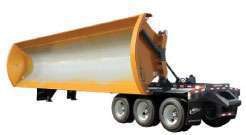 dump trailer, which features a trunnion mounted inverted cylinder design and no center tub divider. Standard features include .25-inch AR400 high-strength abrasion-resistant steel for the rounded tub, four tub pivots per side, air ride suspension, greased hub axles, 2-speed landing legs, a push block and LED lights.
Visit EquipmentWorld.com/info
K-TEC SCRAPER PAIRS WITH MOST ADTs
Pair K-Tec's earthmoving scrapers with articulated dump trucks for an even weight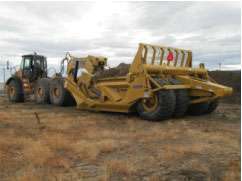 distribution with the ability to load 25 to 54 cubic yards. Any of K-Tec's nine scrapers, which feature a gooseneck design, can pair with most ADTs including Volvo and Caterpillar with the use of a model-specific truck hitch.
Visit EquipmentWorld.com/info
TIER 4 MACHINES OFFER LOTS OF OPTIONS
Meet Stage IIIB/Tier 4 Interim emissions requirements with the Cat D3K2, D4K2 and D5K2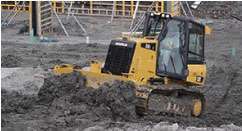 Track-Type Tractors, featuring the Cat C4.4 Acert engine which uses air-to-air charge-air cooling, Passive Plus Regeneration system for emissions control, and an electric fuel-priming pump. The tractors feature Stable Blade for operator blade control input, Power Pitch, single-lever travel/steering control, single-lever blade control, a Cat Sealed-and-Lubricated Track or Cat SystemOne undercarriage and an enclosed ROPS cab. Options include air-conditioning, heated/ventilated seats and heated control handles, which are all controlled by switches in the cab.
Visit EquipmentWorld.com/info
BRIDGE PAVER OFFERS SEVERAL OPTIONS
Pave bridges from 36 feet to more than 170 feet with the Bid-Well 4800 from Terex. Two 23-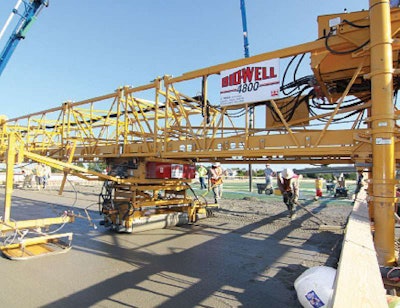 horsepower Evaporative Emissions Tier 4-compliant gas engines power this bridge paver, which features a fogging system with adjustable and removable spray nozzles located at the burlap drag and drag pan, polyethylene tubing, two double-flighted augers, dual 5-foot long paving rollers, a 48-inch deep truss frame and poly drive bogies. Optional features include a skewable power crown adjuster which can be mounted in-line on a straight paver or positioned on the frame at the skew for paving decks with a skew angle, a 15-inch Rota-Vibe system, a dual drag pan arrangement, a swing leg design and a pivot leg design.
Visit EquipmentWorld.com/info
LIGHT BAR ILLUMINATES AND WARNS
Illuminate any work area with the Stop, Tail and Turn Light Bar for the Landoll 800 Series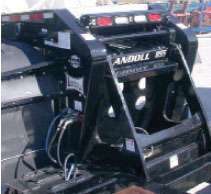 Detachable trailer. This secondary set of safety and work lights, which can be installed to an existing trailer, mounts on the upper level of the gooseneck. In addition to its function as a work light, the light bar can supply warning lights to the rear of a detached trailer.
Visit EquipmentWorld.com/info
GAUGE TUNER INCREASES HORSEPOWER
Increase the torque and horsepower of nearly any new model diesel pickup with Bully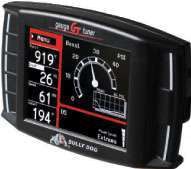 Dog's Triple Dog Gauge Tuner. The GT, which can be used as a vehicle engine tuner, monitor, gauge or diagnostic device, monitors and displays more than fifteen different vehicle parameters and performs vehicle diagnostics. This device features a Driving Coach to teach users how to maximize fuel economy, performance testing and PC analysis software to determine vehicle horsepower. An optional gas version of the GT is also available.
Visit EquipmentWorld.com/info
LASER BOX IMPROVES GRADING ACCURACY
Increase grading time and accuracy with the Level Best laser grading box from ATI, which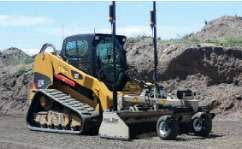 uses lasers, machine control technology and a digital proportional valve. The finish grade elevation is level to within .25 inches or .125 inches. Features include .375-inch and .25-inch steel plate and heavy-wall steel tubing; large, heavy-duty casters; heavy-duty wheel hubs and bearing assemblies; epoxy-fiberglass composite bushings in all pivot points; foam-filled tires to prevent blow-outs; powder coating; reversible, long-wearing high-carbon steel cutting edges; a 48-inch draw bar; and adjustable top link and an adjustable hitch. Additionally, this grading box retrofits to older Level Best boxes.
Visit EquipmentWorld.com/info
PAVER MODELS IMPROVE WITH NEW TECHNOLOGY
Pave highways with Roadtec's improved 10-foot standard asphalt paver models: the RP-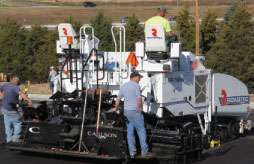 190e rubber-tired highway class paver and the RP-195e track highway class paver, which use Tier 4i emission technology. Improvements include operator visibility and access to service points. Cat C7.1 Tier 4 Interim engines power the pavers, which feature hydraulic-pivot consoles and selectable seat positions in the operator stations, an adjustable delta plate design, hydraulic tunnel panels, heavy-duty offset conveyor chains, release agent spray-down systems with a dual system, a dual hinge apron plate design and a 135-gallon fuel capacity. The floor plates, which drop in without bolts, are made of wear resistant chromium carbide. Visit EquipmentWorld.com/info
CLEARSPAN STRUCTURES SIMPLIFY STORAGE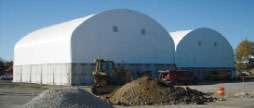 Store equipment and materials in ClearSpan Fabric Structures. This temporary or permanent storage solution is custom-made according to location and use, and it can be built to any length and up to 300 feet wide.
Visit EquipmentWorld.com/info
ACHIEVE FLAT RIPPED SIDES
Replace hammers and blasting and rock trenchers with the High-Cap Multi-Ripper Bucket, a rock ripper bucket combination from Leading Edge Attachments. This excavator bucket uses SHARC technology combined with hydraulic excavator rolling action to rip, resulting in flat ripped sides and bottoms of trench flats with no depth limitations. The High-Cap Multi-Ripper Bucket is available for any excavator weighing more than 6,000 pounds, and it features staggered MTG KingMet Systems ripper teeth, a force eight times stronger than a standard excavator bucket and a speed of four times faster than a hydraulic hammer.
Visit EquipmentWorld.com/info
UPDATED PAVERS INCLUDE PROVEN TECHNOLOGIES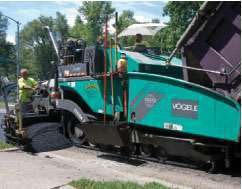 Vögele's Vision Series asphalt pavers includes the 10-foot tracked Vision 5200-2, 10-foot wheeled Vision 5203-2 and 8-foot wheeled Vision 5103-2. The quiet, cool, productive paver line includes Vögele Super Series technologies in a clean-sheet design.
Visit EquipmentWorld.com/info
PATCHING SYSTEM MOUNTS TO TRUCK
Turn any truck into a self-contained patching system with the HTC Patcher 48. The two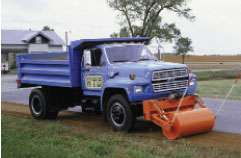 versions of the Patcher 48 can use either existing plow-hitch points and hydraulic control or the factory mounting bracket and hydraulic controls. However, a three-position four-way valve with power up and power down is necessary to use an existing hydraulic system. The Off-Set Patcher 48 can be either center-mounted or off-set to either side of the truck, while the Center Mount Patcher 48 can only be mounted centered on the truck.
Visit EquipmentWorld.com/info
SMALL FOOTPRINT OFFERS CONVENIENCE
Vanair's Air N Arc 300H includes a 40-cfm rotary screw for on-demand air, a 300-amp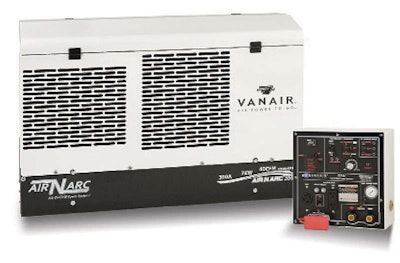 welder, 300-amp 12-volt charge and 12-/24-volt boost and a 7-kW generator. The two generator system enables simultaneous dual functionality in a small footprint. At 595 pounds, the lightweight system lowers fuel costs, reduces maintenance and meets weight restrictions.
Visit EquipmentWorld.com/info
DUAL ENGINE SYSTEM SAVES FUEL
Wirtgen's W 210 advanced technology cold mill can be equipped with 59-, 79- or 87-inch working width milling drum assemblies. Two diesel engines generating 671 horsepower contribute to a fuel-saving drive concept. The 62,138-pound cold mill has three selectable engine speeds.
Visit EquipmentWorld.com/info
SCREENING PLANT IS COMPACT AND PORTABLE
Remu's E300 Screening Plant combines proven and new technology to boost production.
A 90-horsepower, water-cooled diesel engine powers the E300, which is compact and portable. The E300 has a capability of 300 tons per hour and allows adjustments for many different materials. This plant, which can be paired with accessories such as conveyor systems, hoppers and loaders, features an on-board computer with a start screen button.
Visit EquipmentWorld.com/info
CRANE INCREASES TRUCK'S VERSATILITY
Attach a crane from Auto Crane to the company's Titan Mechanics/Work Ready Truck to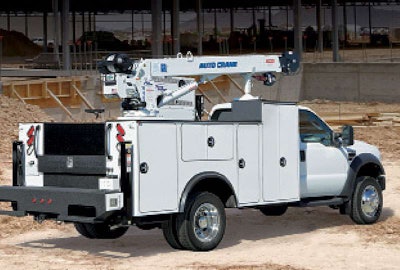 improve the Titan's versatility. A one piece continuous longitudinal frame supports each heavy-duty steel body, which comes fully equipped with the customer's compartment preferences and accessories and can be fitted with a factory-matched crane from Auto Crane with capacities up to 14,000 pounds. All bodies equipped with an Auto Crane hydraulic crane also feature the NexStar crane control system, which gives the user proportional control in any of the crane's four individual speed settings.
Visit EquipmentWorld.com/info