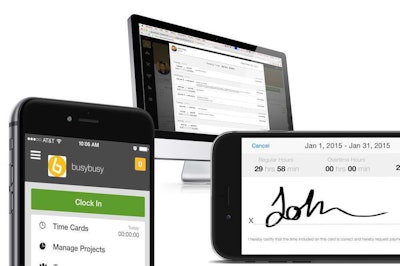 You won't find too many contractors that consider themselves a "nerd." But very early on in my conversation with Isaac Barlow, a 19-year veteran of commercial excavation, he threw the word out there.
"My nature is very analytical," he said while scrolling through thousands of emails on his iPad amid the dull roar of the Las Vegas Convention Center earlier this month at the World of Concrete show. "My friends say I'm a nerd that grew up in a construction household."
It's a label the 37-year-old wears with pride, and for good reason. In addition to starting his own successful excavation business, Barlow led the creation of busybusy, a digital time sheet app for iPhone and Android that seeks to largely automate a seemingly small task that often amounts to a big headache for a lot of contractors.
The app launched in 2013 and in that time has amassed between 5,000 and 6,000 active users. But Barlow says his company has only recently started promoting the app, considering those first two years a soft launch of sorts, used to add polish and a few user-requested features that made the app more ready for prime time.
But it was his first company that has served as the foundation of busybusy's development. Barlow started Competitive Excavation in St. George, Utah, back in 2008. Since then, the company has grown to 35 employees and pulls in about $6 million each year. His experience has enabled him the unique ability to deliver a mobile app built for contractors by a contractor.
"Back in 2007, right before the downturn hit really hard, I was doing like everyone else, wearing all the hats," Barlow said. Not long after, it hit him: "(Contractors) have too many responsibilities to manage and a lot of us aren't big enough to hire a staff large enough to take care of these things."
Barlow's "rainbow" of responsibilities bears that statement out: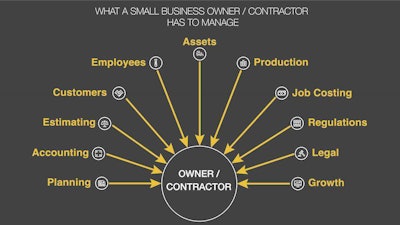 "Not only are they managing a whole bunch of responsibilities, but their skill set is primarily in production," Barlow explained. "You try to do all of that—and typically from the seat of a track hoe—it's not that easy."
So, over the next few years he did a lot of research, mainly trying to figure out if any software existed that sought to address this problem, but also to figure out if he was the only contractor that felt this way.
While researching Census numbers he found was a shocking statistic: 70 percent of contractors fail within their company's first seven years. And still more than half of them fail in the first four years.
The main reason those businesses fail? Labor costs. "All those years of research said you couldn't find a contractor that failed because they didn't know how to do their job," he said. "But if they could control labor costs, they could control 70 percent of the bleeding. It's the core data."
"I just thought, 'This is a huge problem. Why isn't somebody going after this?'"
So he decided to go after it himself with busybusy.
"I realized modern technology can get these tasks automated. And the key to that is mobile technology," he said. "If the construction industry realized how impactful mobile should be on us we would have thrown a party when Steve Jobs introduced the iPhone."
The app allows workers to clock in each work day with a tap of their smartphone. And when they do, the time and their GPS location are logged into smart time sheets, allowing their bosses to easily keep track of all their work status from a mobile device and from the busybusy website on a desktop computer.
More importantly, the app allows contractors to set a labor budget for each project. And as workers clock in and out, the current labor cost can be checked against that budget each day.
The app also allows workers to post jobsite reports and upload photos, giving contractors an even clearer picture of their active jobsites, no matter how far away. And from the website, contractors can transfer all the data via a .CSV file to their accounting software of choice.
You can see how it all looks in action in this video.
As it stands, many contractors are having a rough go in the construction business due to "insufficient information to make proper decisions," Barlow said.
"Most (contractors) don't do the whole accounting cycle," he said. "You estimate a job, you execute and then you should evaluate it. But the evaluation almost never happens because you don't have the necessary data. Most of us were working on best assumptions and the number one variable is the employee. If you can track it accurately, it's a driver for all the other variables."
In terms of pricing, the app itself is free and the service does not require a contract. It instead bills month-to-month based on the number of employees busybusy will need to account for. You can view all the pricing information as well as a calculator to see how much the service could save your business here.
Recently, the app added digital signatures for time sheets (workers can sign with their finger) and gained the ability to print out paper time sheets for those that need them.
Moving forward, Barlow plans to increase busybusy's functionality even further in order for the app to address more of those responsibilities listed in the graphic above. "Equipment is the next greatest variable so it's definitely on our radar," he said.
For now there's still a lot to like as busybusy answers the most pressing question for most construction business owners in an intuitive and streamlined way.