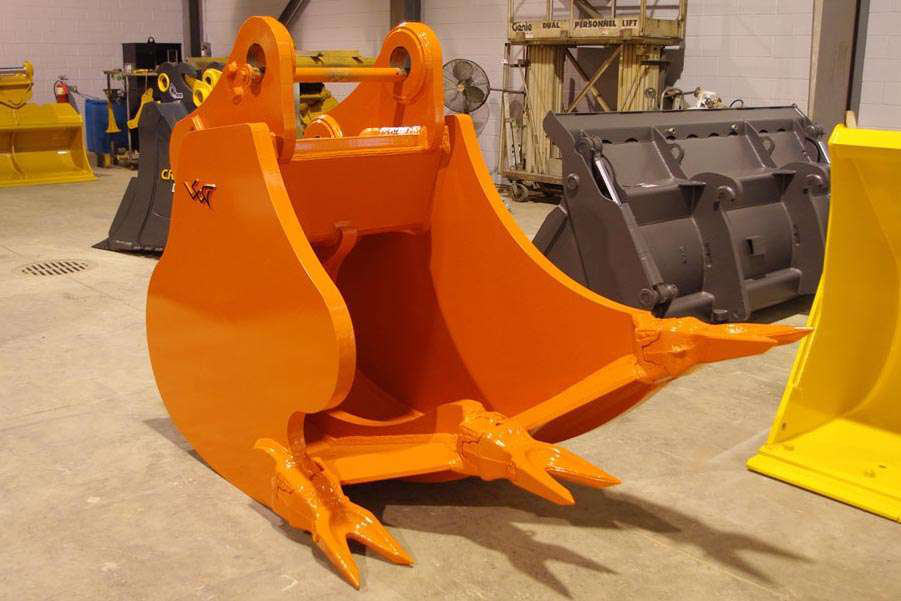 Leading Edge Attachments (LEA) will feature six products at its booth at ConExpo-Con/Agg in Las Vegas, Nevada, March 4-8.
The six main products on display at booth #31040 will be the High-Cap Multi-Ripper Bucket, Multi-DigNRip Bucket, Stag Bucket, V-Raptor Bucket, Stumpiranha and Multi-Ripper Talon Bucket.
The High-Cap Multi-Ripper Bucket uses "SHARC" (SHanks on an ARC) Technology that allows the bucket to act as a trencher, while the hydraulic excavator rolling action delivers optimal breakout force.
The Multi-DigNRip Bucket is designed for high production rip and load applications where a wider rock ripping bucket is required.
The new Stag Bucket, named for its use of "Staggared Tooth" technology, is a high-penetration bucket for excavators that allows operators to dig compacted soils, frozen ground and other difficult surfaces by using a high concentrated breakout force. The stepped and angled front leading edge lets the operator focus the full breakout force on one tooth at a time. Similar to a conventional bucket, the teeth are on the same plane, making it easier to create flat trench bottoms. The Stag Bucket is available for 11,000- to 220,000-pound excavators.
The V-Raptor Bucket is a ripper/bucket combination for excavators and backhoes. It allows operators to rip rock, coral or frozen ground with the maximum breakout force; pry out and carry stumps or cradle boulders; rip a clean narrow V trench for laying utilities; or scoop and load material. The V-Raptor eliminates the need for a tool or machine change to use another bucket.
The Stumpiranha is a stump removal tool that replaces stump grinding with complete removal and eliminates grindings and stump remains. Ideal for roadside vegetation management, it attaches to an excavator or backhoe and cuts and rips under the stump from the roots. Staggered sharp pointed blades cut and rip, while vertical arms straddle the stump.
The Multi-Ripper Talon Bucket features a narrow bucket, and the center rib can be eliminated to improve capacity fill and dumping.
Check out the gallery below for more photos of these attachments.
To get a close-up view of any of these products, visit Leading Edge Attachments at booth #31040 at ConExpo-Con/Agg.