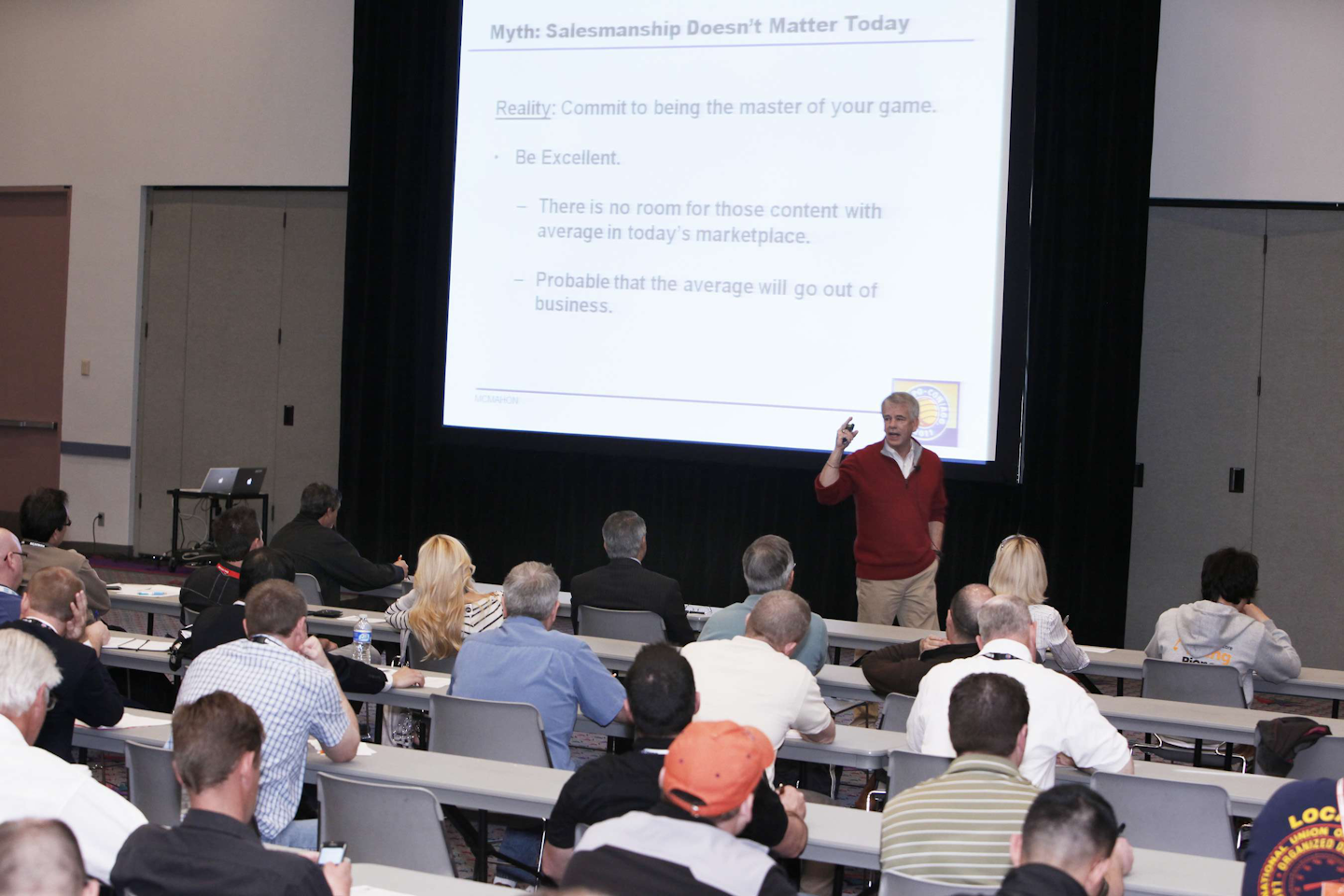 Although ConExpo-Con/Agg is the perfect opportunity to find out about the latest and greatest new equipment launches in the industry, the show also presents a range of training opportunities, particularly with respect to safety best practices and regulations.
Here's a sample of some of the sessions available:
Actions Speak Louder than Words … Creating a Positive Safety Culture
Learn how to initiate a progressive workplace safety system focusing on employee motivation and the strength of using positive interactions. We will demonstrate how to take the idea that safety is "job one" to Safety Excellence. This methodology helps facilitate leadership commitment, management involvement, and supervisor ownership of workplace safety. Learning Objectives: 1. Create a Safety Excellence program that will accelerate workplace safety to the highest level. 2. Demonstrate to employees and supervisors how they can take personal ownership for workplace safety. 3. Align actions with words to emphasize the importance of using appropriate language in workplace safety. Tuesday, March 4, 10 a.m. – 11:30 a.m. Speakers: Peter Furst, President, The Furst Group; Vince Hundley, President & CEO, SMART Safety Group; Chris Goulart, Director of Safety Services, RCI Safety.
Preventing Runovers and Backovers in Roadway Work Zones
Once a week, a roadway construction worker is killed in a "struck-by" incident; hundreds more are injured every year. This course explains in detail the concept of "Internal Traffic Control." It is designed to train contractors and their employees how to safely navigate around workers and equipment in work zones to avoid runovers and backovers of workers on foot. We will provide "common sense" tips and information about safe work procedures to reduce and eliminate the hazards which lead to death and injury for roadway construction workers. Learning Objectives: 1. Understand the leading cause of worker injury and death in roadway work zones. 2. Employ preventive methods for reducing work zone incidents. 3. Create a basic Internal Traffic Control Plan to separate workers on foot from construction vehicles and equipment. Wednesday, March 5, 8:30 a.m. – 9:30 a.m. Speaker: Brant Sant, Senior Vice President Safety and Education, ARTBA.
Safety of Equipment around Power Lines
Power lines are lethal weapons. And while equipment operators are responsible for keeping themselves safe from overhead dangers, it's only through employer commitment and dedicated job-site supervision that the hazards of power lines can be properly managed. This session will outline the responsibilities and competencies in power line safety and explain OSHA's power line safety rule, 29 CFR 1926 Subpart CC. Newly developed SC&RA training materials, Cranes and Power Lines, will be used to highlight safe work practices, and participants will take away the knowledge, resources and tools to implement a mobile crane management system for power line safety at their job sites. Learning Objectives: 1. Identify OSHA's power line safety standards, specifically clearance distances for both known and unknown voltages. 2. List the options for compliance if working in close proximity to an overhead power line. 3. Prepare planning documentation that complies with OSHA's encroachment/electrocution prevention requirements to include the procedure to be followed in the event of a power line contact. Wednesday, March 5, 1 p.m. – 2:30 p.m. Speaker: Paul Satti, Technical Director, Construction Safety Council.
Each session for the March 4-8 show in Las Vegas costs $65. Day passes can be obtained for $195 and an all-show educational session pass costs $395. To find out more, go to the ConExpo/Con-Agg website.