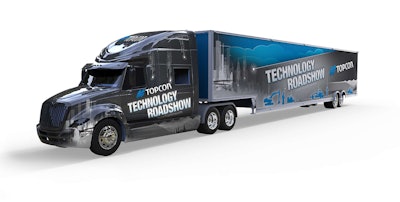 Topcon Positioning Systems (TPS) is hitting the road in April when it launches its "Topcon Technology Roadshow 2014." The program officially launches April 10 in Pleasanton, Calif., and will end in October in Riverside, Calif.
The "hands-on, bring-the-technology-to-you" educational program is focused on advanced positioning technologies and will feature a 5,000 square-foot mobile classroom/theater housed in a custom-designed 18-wheeler.
The roadshow will travel more than 23,000 miles in six months throughout North America.
There are currently 23 scheduled stops, with the events focusing on technology trends in the construction, surveying and GIS, engineering and architecture/engineering/contractor professions.
For more information, go to the official Topcon Technology Roadshow website.
To register for an event in your area, click here.