Volvo has launched its Tier 4 Final technology and several new machines that use it.
The D4, D6, D8, D11, D13 and D16 diesel engines improve fuel efficiency by 5 percent compared to previous models.
The engines were "comprehensively tested," according to Volvo, in harsh environments and have been validated in bench and multi-application field testing to reduce NOx levels 80 percent from the Tier 4 Interim levels.
To meet these new requirements without dramatically changing the base engine, Volvo says the majority of its Tier 4 Final engines incorporate selective catalytic reduction (SCR) technology, which the manufacturer has tested in more than 1 million of its trucks since the system was introduced in 2005.
In addition to SCR, the engines also use cooled external exhaust gas recirculation (cEGR) to decrease NOx.
A fully automatic diesel particulate filter (DPF) system is used to reduce particulate matter (PM)
Volvo's new G Series articulated haulers feature a redesigned, turbocharged, six-cylinder engine that meets Tier 4 Final emissions regulations and will be available to the United States and European markets.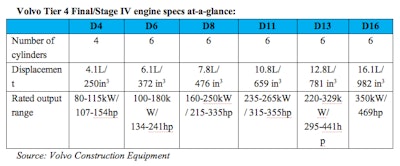 G Series articulated haulers
The A25G, A30G, A35G, A35G FS A40G and A40GS G Series models all have automatic traction control (ATC) and unique differential locks as standard features. The machines also all come fitted with CareTrack telematics system.
The ATC system automatically switches between 6 by 6 and 6 by 4 drive combinations for maximum traction and to lower fuel consumption. The oil-cooled, wet multiple disc brakes on the A35 and A40 models are being integrated into the A25G and A30G machines.
The A35G FS and the A40G FS have full hydraulic suspension on all wheels, and all the models can be equipped with Volvo's weighing system.
G946C motor grader with a Tier 4 Final-certified engine
The 38,510-pound G946C motor grader with a Tier 4 Final-certified engine and optional dozer blade or scarifier provides a stable platform for precise grading with the machine's heavy-duty circle, moldboard and drawbar, which has a 24,957-pound blade pull at the base. The machine's ergonomic human-machine interface (HMI) also helps the operator stay in control of the motor grader.
Twin pinion driver gives the moldboard up to 52,000 foot-pounds of circle turn torque and is supported by 700 square inches of Duramide bearing surface. The exterior teeth in the grader's circle turn system provide a large rotation circle to eliminate material build-up and tooth damage.
The machine's load-sensing hydraulics balance flow to all grading functions through custom-designed spools in the main valve.
Although the grader has a precision steering wheel, the equipment operator can also use an optional joystick. If needed, it also can be fitted with a third-party grade control system, using the Technology Ready Option.
H Series wheel loader
Tier 4 Final-compliant L250H high-production wheel loader is 18-percent more fuel efficient with Volvo's OptiShift technology, which combines a Reverse By Braking (RBB) system and a torque converter, as well as the Fully Automatic Power Shift (FAPS) feature.
The North American version of the wheel loader is capable of loading a 25-ton triaxle on-highway truck with two passes – i.e. two full buckets for one truck. The wheel loader has a breakout force of 336 KN and 395 gross horsepower. Its maximum power is 25 rps and 1,500 rpm.