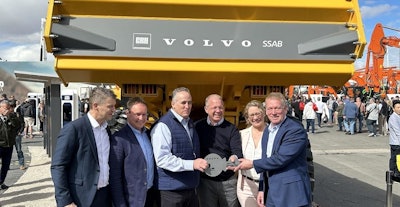 Volvo Construction Equipment
Volvo Construction Equipment has announced earnings from the first quarter of its 2023 fiscal year, reporting good profitability and margin with strong demand from North American and European customers.
During the first quarter, Volvo CE net sales increased 11 percent over the same period in 2022 to SEK 25,109 M. Equipment sales accounted for the bulk of the company's sales, while service sales remained flat.
Operating margin rose to 18.3 percent, up from 12.4 percent last year. Volvo says operating income was improved by a favorable brand and product mix, and minimally offset by lower volumes, increased material costs and R&D expenses.
Sales in North America jumped 37 percent compared to the same period last year, boosted by large infrastructure projects and strong commercial construction. Thanks to the favorable outlook, order intake in the region also increased by 107 percent.
European sales, excluding the stopped sales in Russia, rose 17 percent as rental companies replaced their fleets.
Meanwhile, investment levels and order intake have slowed in Asia and South America, resulting in declining sales. The drop in China comes as no surprise – an emissions regulations change prompted a "pre-buy effect" at the end of last year.
Commenting on the market conditions, Volvo says, with the exception of China, activity in the construction industry has continued to be good across most markets, driven primarily by ongoing infrastructure investments and by the mining industry, which benefits from continued good commodity prices.
"Strong profitability and robust sales like the kind we see this quarter is of course important to us and is a testament to the great products and service solutions we continue to bring to the market," said Melker Jernberg, president of Volvo CE. "But these results also allow us to maintain our industry lead in the sustainable transformation, increasing our investments into zero-emission solutions and demonstrating innovative partnerships in what is no doubt the biggest technological shift ever to happen in our industry."
While there was fluctuation across the regions, Volvo CE continued its investment in sustainable power solutions during the quarter – including a $7.8 million investment into battery pack production at its excavator plant in Changwon, South Korea, and a $6.3 million investment into electric wheel loader production at its Arvika factory in Sweden.
The company also used the recent ConExpo trade show to preview its new 50-ton EC500 excavator, as well as launch remote control for excavators and a range of new service offerings including Connected Map, Task Manager and Global Load Out solutions. The event also marked the handover of the first articulated hauler made from fossil-free steel in North America to a customer, CRH.