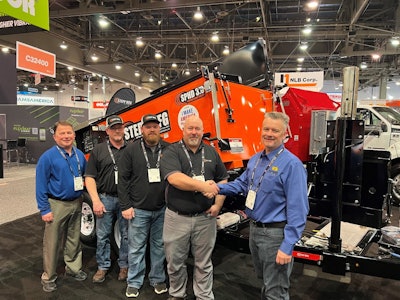 Reed International
Reed International, the manufacturer of VSS Macropaver and Kasi Infrared, has acquired Stepp Manufacturing to expand its portfolio of asphalt paving solutions.
Based in North Branch, Minnesota, Stepp Manufacturing specializes in asphalt maintenance equipment designed to heat, melt, transport and apply asphalt materials for highway maintenance, pothole repair, crack sealing and parking lot maintenance. The terms of the acquisition were not disclosed during the announcement made at ConExpo-Con/Agg 2023.
Stepp Manufacturing has been family-owned and managed since 1942. Its portfolio of products includes trailer, truck, hook truck and slide-in asphalt pothole patchers, asphalt recyclers, crack sealing machines, mastic melters, oil distributors, tack trailers and asphalt kettles.
"2023 will bring our company to its eighty-first year in business under the same family ownership with three generations of Stepps at the helm. We are truly honored to be a part of a company that has served our community, employees, dealers and customers for eight decades," said Jason Stepp, owner, vice president and national sales manager. "We are excited to bring the synergies of these three companies together to continue to lead our industries with innovation and technology for years to come in the asphalt maintenance and preservation industries."
VSS Macropaver produces slurry and micro surfacing pavers, as well as asphalt emulsion and modified asphalt production plants. Kasi Infrared offers infrared asphalt equipment for pavement restoration.