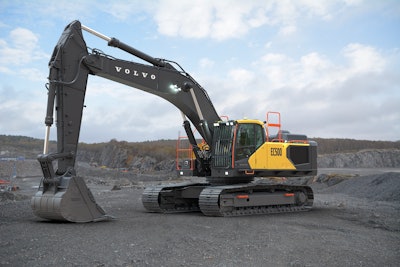 Volvo CE
Volvo Construction Equipment plans to start producing its next-generation 50-ton excavator this year with new automated safety technology, redesigned cab and longer service intervals.
A prototype of the EC500 was revealed at ConExpo in March to give attendees a sneak peek. It is designed to be a versatile machine for heavy-duty jobs in construction, road work, utilities, quarrying and aggregates.
Volvo says the model will likely undergo some changes ahead of production, which is scheduled to begin in the fourth quarter. It will replace Volvo's current 50-ton excavator, the EC480E.
"A pre-production model, there will be some differences to the appearance of the EC500 that will be available to our customers, but it gives an insight into the future, with enhanced safety, operability and productivity," says Stephen Roy, president of Volvo CE North America.
The cab gets a new layout, styling and features, such as a high-definition Co-Pilot screen, keyless start, wired and wireless smartphone charging and a new work mode switch, according to Volvo.
The excavator will be equipped with Volvo Smart View with Obstacle Detection, which gives operators a 360-degree camera view. New for the camera system is radar that alerts operators to nearby obstacles with automatic alerts. It also identifies whether the approaching obstacle is human or not.
According to Roy, "the addition of Volvo Smart View with Obstacle Detection is another important step towards our vision for zero accidents."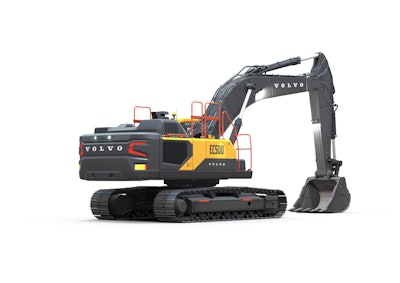 The EC500 will get new electric joysticks for better control. Volvo says the operator will be able to operate the hydraulic pumps together or independently. That means the boom can be operated separately without affecting track speed, which the company says will improve safety and make for a smoother ride.
Operators will get Comfort Driver Control so they can move forward, backward and steer with the joysticks. Hydraulic settings can be set for each operator and saved in Co-Pilot for retrieval when needed.
The excavator will come with Volvo Dig Assist, bringing automated grade control through Volvo Active Control for the first time on an excavator of the EC500's size, the company says. The system automates boom and bucket movements for more efficient excavation with less operator effort. Volvo Lift Assist is another technology feature for the new excavator that will be accessible on the Co-Pilot screen, as well as Volvo's coaching app for operators.
The EC500 will not have to undergo routine maintenance as often, as its service intervals will be extended from 2,000 to 3,000 hours for hydraulic oil and filter. The cooling system gets a boost in capacity for working in extreme weather.