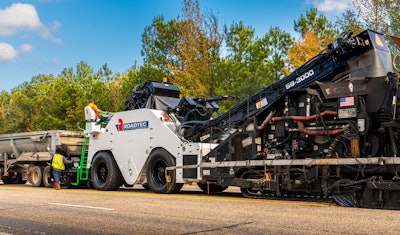 Roadtec
Roadbuilding and aggregates equipment manufacturer Roadtec plans to expand its operations in Chattanooga, Tennessee, with a $6.2 million investment.
The Tennessee Department of Economic and Community Development says the expansion will create 128 jobs in Hamilton County. The jobs pay wages that are above average for the county, economic development officials say.
The expansion also involves relocating some of parent company Astec Industries' Tacoma, Washington, operations to the Tennessee campus. Astec announced in January it plans to close the Tacoma plant, where it manufactures Carlson Paving Products asphalt pavers and screeds, in the fourth quarter of this year and transfer those operations to its other facilities by the end of the year. The company has said that although the Tacoma operations will cease, Carlson product lines will continue.
Last June, the company also announced the closure of its Telsmith plant in Mequon, Wisconsin, which manufactured aggregates and mining crushing and screening equipment. As with the Tacoma plant closure, the operations have been transferred to other Astec locations, the company says.
Astec said the closing and plant expansion decisions were part of the company's plan to simplify and focus its operations and become more efficient.
Roadtec has operated in Hamilton County for 30 years. Roadtec manufactures asphalt pavers, milling machines, asphalt recyclers, material transfer vehicles and self-propelled brooms.
"We have enjoyed a strong partnership with the state of Tennessee, city of Chattanooga and Hamilton County," says Astec President and CEO Barry Ruffalo. "We look forward to strengthening that connection and bringing more growth and opportunity to the area."
Astec continues to recover from the pandemic, reporting a 1.5% drop in net sales in the first quarter compared to 1Q 2020, along with a 24% drop in gross profit margin.
The company reported that sales of new equipment and parts were slightly up for the quarter but were offset by a decline in used-equipment sales. It predicts growth for 2021 and 2022, thanks to increased infrastructure investment around the world and a 72% increase in order backlog over 1Q 2020.
"We appear to be in the early stages of a positive economic cycle supported by investment in global infrastructure," Ruffalo said. "Many of our customers have projects on their books for the rest of 2021 and some into 2022. As a result, we are pleased with the significant increase in our backlog."
Astec, which is headquartered in Chattanooga, employs about 1,500 people in the city and surrounding area. Roadtec accounts for about 400 of those workers.