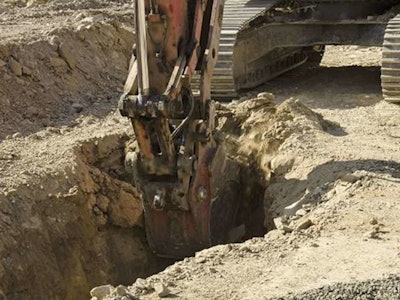 The year 2020 ended on a deadly note with five construction workers perishing in separate trench collapses in December.
The fatal collapses for the month were reported in Georgia, Virginia, South Dakota, Michigan and California.
Those fatalities bring the year's construction trench-collapse death toll to at least 21, which is the same as in 2019, according to reports compiled by Equipment World from the U.S. Occupational Safety and Health Administration and news media. (Cumulative OSHA data on trench-collapse deaths have not been released for 2019 and 2020.)
Trench-collapse deaths among construction workers appear to be rising slightly since 2018. There were 17 fatalities that year being investigated by OSHA and state agencies, according to the NIOSH Science Blog.
A breakdown of construction trench fatalities between 2003 and 2020 shows that – outside of 2016, when there was a decade-high of 33 trench deaths – 2019 and 2020 are tied for the second-deadliest years since 2010.
The leading cause of the collapses for 2020 – and in previous years – has been inadequate cave-in protection, as provided by shoring, sloping or shielding (trench boxes). Of the 12 deadly collapses in 2020 that have so far resulted in violations, eight were cited for inadequate cave-in protection.
Safety experts have said that most trench collapses could have been prevented if proper cave-in protection were used. Some prosecutors have lodged criminal charges in trench death cases. A contractor in Colorado reached a plea bargain in November after one of his workers died in 2019 in a trench. Under the agreement, he pleaded guilty to criminally negligent homicide and reckless endangerment in exchange for 90 days in jail and four years of supervised probation.
Eight cases in 2020 were also cited by regulators for failure to provide a daily inspection of the trench or excavation before workers entered. Other violations were for equipment or material within 2 feet of the trench edge (4), no proper way for workers to get in and out of the trench (4) and workers not wearing hardhats (3).
Penalties totaling $1.1 million have been issued so far against employers for fatal trench collapses in 2020. Half of that amount, $555,674, was for one case in Washington in which a 24-year-old worker died while trying to rescue a co-worker.
2020 death toll: Fathers, husbands, sons and brothers
The following is a summary of construction trench-collapse deaths in 2020, as compiled by Equipment World through media and OSHA reports:
December 30 – Brian Theobald, 45, died while trying to repair a water line break in Eastpointe, Michigan, reports the Macomb Daily. The trench was 10 to 12 feet deep. He was a 13-year employee of Eastpointe's Public Works Department and is survived by his wife and two children, the newspaper reports.
December 21 – Two workers were in a 5-foot-deep trench while digging a water line at a home in Rapid City, South Dakota, when it collapsed, according to the Rapid City Journal. One was rescued, and one died. He was buried for five hours before his body was recovered. The men worked for Nelsen Construction. Their names were not released.
December 19 – A worker on a swimming pool job in Orange, California, was buried up to his neck in a 9- to 10-foot excavation when rescue workers arrived. During the rescue attempt, a second collapse buried him, according to the Orange Fire Department. It took two hours to recover the body. The worker was identified as Luciano Gonzalez Munoz, 45 of Puebla, Mexico, according to the New Santa Ana blog.
December 18 – Two men were working in a 6-foot-deep trench when it collapsed in Fort Hunt, Virginia. One man was rescued, but Jonathan Spence Canales, 30, of Maryland, did not survive, according to Patch. Part of the trench had been shored, and the men were working to shore another section when the collapse occurred, the online news site reported. Canales is survived by his wife and 2-month-old son.
December 18 – A worker died in a drainage ditch in Hoschton, Georgia, when it caved in on him, according to the Athens Banner-Herald. The 43-year-old worker was from Guatemala; his name was not released pending notification of next of kin.
October 3 – A worker died of compression injuries at a hospital after a trench collapsed in Spanish Fork, Utah. He was identified as Nathan Carr, 36, according to the KSL TV news station. He is survived by his wife and five children. Dos Amigos contractor was fined $3,000 for two serious violations, according to OSHA online records.
August 19 – Vincent Edward Rasmus, 56, died following the collapse of a 12-foot-deep trench for underground utilities at a home construction site in South Haven, Michigan, according to MLive. Workers were able to remove him from the trench, but he was pronounced dead at the scene, the news site reports. He is survived by three children and worked for DeBest Inc. DeBest faces proposed penalties of $2,350, according to OSHA online records.
July 23 – Two workers were buried in an 8-foot-deep trench that collapsed in Phoenix, Arizona. The workers, who were installing a sewer line at home-construction site, were identified as Alex Quaresma, 36, and Rudy Mori, 33, according to the Arizona Republic. The recovery effort took 12 to 15 hours. Quaresma is survived by two children.
May 19 – Two workers died after a boulder on the edge of a 10- to 12-foot-deep trench in Starkville, Mississippi, fell on them, according to OSHA. Zachary Wayne Osbourn, 36, and William Thomas Kizzire, 19, both from Alabama, were on a residential sewer installation job. Southern Civil Contracting Inc. of Alabama faces $17,003 in proposed OSHA fines, which the company is contesting, according to OSHA online records. Kizzire is survived by his parents and sister. Osbourn is survived by his wife and three daughters.
May 4 – A worker was installing a sewer pipe in Longwood, Florida, and was exiting the trench when it collapsed and he was buried. Another worker was injured in the collapse. Kevin Jones died in the incident, according to ClickOrlando.com. Central Florida Environmental Corporation of Winter Springs was fined $26,988, according to OSHA online records.
March 17 – When a water main broke on a sewer line project in Fort Wayne, Indiana, it caused 7 feet of loose stone backfill to collapse into a trench, burying a worker, according to OSHA online records. The stone backfill was being hauled into place by a wheel loader, and dump trucks were removing spoil. Michael D. Ramos, 50, was in the trench guiding an excavator operator to locate the old water line, when the line broke. The Fort Wayne native is survived by his daughter. The project involved installing a 42-inch corrugated plastic pipe 24 feet down at the intersection of two roads. Land Construction Corp. of Laotto was initially faced with proposed penalties of $187,398 for 11 violations, including a repeat offense for not providing adequate cave-in protection. After contesting the violations, the citations were reduced to six and the fine to $36,900, which included $25,000 for the repeat offense, according to OSHA.
February 27 – A worker in Jersey City, New Jersey, died of blunt force trauma to the head when a trench wall caved in on him during a sewer installation. The worker was identified as Jared Petruska, 35, of Wayne, who was buried up to his chest for five hours. He is survived by his wife. Atlas Paving Contractors of Wayne faces proposed penalties of $47,227 for six citations, which the company is contesting, according to OSHA.
February 17 – A worker was laying pipe in an 8-foot-deep trench in Thornville, Ohio, when a side wall caved in and buried him, according to OSHA. Drew Oswald, 34, of Baltic, Ohio, is survived by his wife. Eco-Seal Home Solutions of Millersburg was fined $18,890 for three violations, according to OSHA.
February 12 – Rigoberto Ochoa Gonzalez, 32, of Houston had entered a trench in Rosenberg, Texas, to remove debris when it collapsed. He was in the trench with another worker, who escaped. A third worker was operating a backhoe at the time of the collapse, according to news reports. Master Construction New Generation of Rosenberg faces proposed OSHA penalties of $144,768 for four violations. The company is contesting the violations, according to OSHA.
January 28 – Two workers were buried in 5 to 7 feet of mud and sand when a wall collapsed on a 30-foot-deep excavation for a septic tank installation on Long Island, New York. The body of Max Antonio Turcios Chavez, 46, was uncovered by rescue workers the day of the collapse, but because of darkness and the conditions of the trench, rescue workers had to postpone the search for Deniz Dos Santos Almeida, 57, until the next day, when his body was recovered. RC Structures of Roslyn faces proposed OSHA penalties of $202,407 for six violations, which the company is contesting, according to OSHA.
January 22 – A worker connecting a conduit to the bore head of a horizontal directional drill was buried when a wall of a 10-foot-deep excavation in DeSoto, Georgia, collapsed, according to OSHA. Triple S Communications of Moultrie was fined $43,524 for six violations. The worker's name was not released.
January 15 – Three workers were at the bottom of a 12-foot-deep trench in Raleigh, North Carolina, installing a manhole boot when the trench collapsed. An employee buried to his waist and one buried to his chest were rescued and treated at a nearby hospital. Frank "Trey" Warren Thompson III, 42, of Dalton, Georgia, was buried and could not be saved. He is survived by his wife and son. Chris Plott plumbing contractor of Cohutta, Georgia, was fined $6,825 for four violations, according to OSHA. J Squared Plumbing Co. of Decatur, Georgia, is contesting a $2,800 penalty for one violation, OSHA reports.
January 9 – A man who helped rescue a coworker trapped in a collapsed 15-foot-deep trench at a wind farm project in Rainier, Washington, died after being buried in a second collapse, according to the Washington State Department of Labor & Industries. Jonathan F. Stringer, 24, was engaged to be married and is survived by his daughter. The workers had been positioning a bore pipe so an excavator could place it under a culvert. The other worker who helped Stringer in the rescue was injured in the second collapse. Two affiliates of Renewable Energy Systems-Americas – RES America Construction Inc. and RES System 3 LLC Broomfield Colorado – face total combined penalties of $555,674 by L&I, which RES is contesting. RES is also being sued by Stringer's estate.
For more on the business and human costs of trench-collapse fatalities, see Equipment World's special report "Death by Trench".