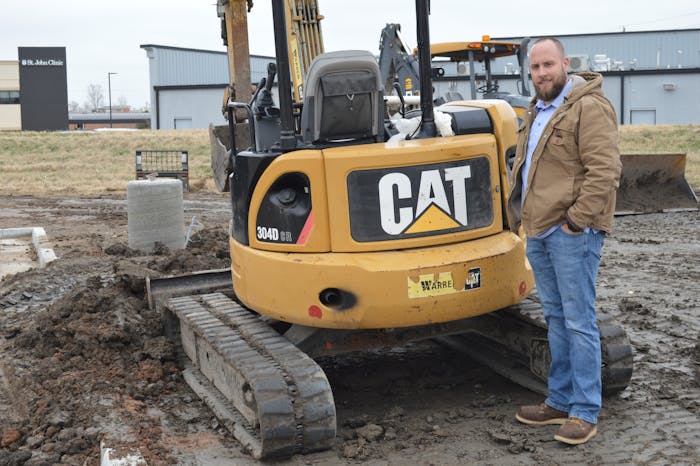 Bret Barnhart standing next to CAT 304D mini excavator
Bret Barnhart's roots in the construction business go deep. Way deep. His great grandfather started an excavating business with a pair of mules. His dad spent a lifetime in the business.
And so beginning at the age of 10, Bret worked for his dad and granddad, starting as early as they did. He relished every opportunity to work alongside the men who loomed so large in his eyes.
But when it came time to try his hand at his own business, Bret knew he had to go it alone.
A truck, trailer and a backhoe
So in 2002 Bret bought a truck, trailer and backhoe and started scrapping for work. The knowledge and old-school discipline he learned from his dad and grandad quickly paid off. Within a year his business was sustainable and developing a growing client list.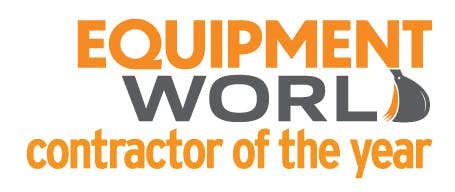 Bret saw opportunity in commercial and municipal projects, and today he offers full site packages throughout central and northeastern Oklahoma. He now has 21 employees and an annual volume of $3 million to $5 million.
While he learned much from the masters of the old-school, Bret recognized that the world is changing.
For Bret, technology means everything, from bidding and estimating software, office management and recordkeeping systems to GPS. "You have to know your costs," he says. "If you don't work smart, you're going to be left behind."
This especially includes his equipment owning and operating costs. Bret, for example, uses his employee timecard data as part of his ownership cost for each piece of equipment. "We take those numbers and plug them into a job cost estimator," he says.
Equipment insurance costs are also under Bret's eagle eye. "I look at auction and retail sale prices and update my equipment insurance every year," he explains. "Why insure a machine for $100,000 when it's only worth $50,000?"
And buying a machine needs to make financial sense in the company's big picture. "We need to keep our financials in a place where we can withstand any obstacle," he says.
Barnhart employees, left to right, Eugene McNew, Ryan Gullo and Brandon Bailey with Bret Barnhart.
People in place
But technology can only go so far if you don't first have the people in place – people who are not only trained but developed through mentoring and leadership.
Each Tuesday, Bret has lunch with one of his four lieutenants. It's more than just a time to socialize; the idea is to speak candidly about everything. "The time is theirs," he says. "I want to hear what they are thinking and what they are seeing." He prefers for them to lead the discussion, and to listen to what they're saying.
These discussions are fruitful. In one, his mechanic opened up and said he was thinking about quitting. "I told him that if he thought that was the right path for him, he should take it and I wouldn't hold any grudges."
But he also pointed out to the mechanic that excessive job switching might lead some owners to look askance. He underlined that loyalty and consistency were paramount to company owners. The two worked out their issues and the mechanic is still with the company.
Bret looks for people who both complement his skill set and who have skills he doesn't. For example, his estimator John Mozingo had been in the field for 20 years but was getting tired of outdoor work.
As it turns out, John knew a lot about computers, so Barnhart brought him on board as chief estimator, setting him up with software that enables the company to put out about 270 bids per year.
Justin Delcoure brought his expertise in GPS and machine control into the company, something Barnhart knew he needed but didn't have the time for setting up systems and finessing the technology. Justin, his general superintendent, is now in charge of all field technology.
Realizing that a lot of employee issues start at home, Bret has also started a monthly men's group through his church, open to both employees and others in the community – including workers from other construction companies.
Rather than meet in a conference room, the 20 to 30 guys put up folding chairs in his shop. The venue puts everyone at ease. "It's a place they understand and are comfortable with," he says.
Barnhart's emphasis on people has yielded notice in the field.
"They do excellent work," says Brent Jacobs of Core and Main, a utility materials provider. "They are good at quickly getting in and out. Every piece of machinery they have has GPS on it and telematics so they know where it is.
Jacobs continues: "Bret sends a lot of his people to training sessions to teach them how to relate better to people, to the public and customers. They're always asking, 'Do you need anything more?'"
The biggest project
You could say that Bret's biggest people project is himself. He's put considerable time and effort into studying management and self-improvement programs. He's an active participant in a program called Masterminds, a weekly teleconference of business peers. He's also invested in John Maxwell and Dave Ramsey leadership programs.
These groups have helped him learn leadership practices that differ from ways ingrained as he was growing up in the business. When he talked to his Masterminds peer group about dismissing an employee, for example, the group challenged him.
"They told me I had to first face the possibility that I had failed to communicate my expectations to this employee," Bret says. "I might also have failed to help that employee remove the roadblocks that were in his way to achieving what I wanted. Only then, they told me, could I in good conscience fire anyone."
He sums it up: "The old my-way-or-the-highway doesn't work anymore. You have to either recognize this and change the way you manage people or you're never going to have enough people."
Future generation: Cole Barnhart poses on his father Bret Barnhart's backhoe.
How big?
Bret has put a lot of thought into how big his company should be. He sees a sweet spot between the smaller firms that just run compact equipment and the large general contractors in his area.
"Until all of your systems are scalable and perfected, however, you should not attempt to add more people," he argues. If your systems are still imperfect, he says, every time you add people you magnify the impact of those imperfections.
"If you have a company of 300 people and discover an ingrained institutional flaw, it's almost impossible to rectify it," Bret says. With 20 people, however, the dynamic is more flexible.
"In my dad's day, you achieved scale by adding people," he adds. "Today you achieve scale through technology and systems."
The Contractor of the Year program has been sponsored by Caterpillar for 21 years. For more information, click here.