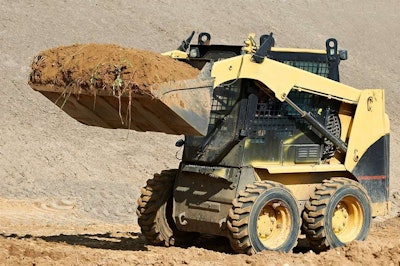 Holidays—few people around, work-related thoughts pushed to the side—present a prime opportunity for equipment theft, says NER.
During the past five years, more than $4.3 million in construction equipment was stolen during the Tuesday before Thanksgiving to the Monday after, says NER. Prime theft locations included jobsites, dealerships and storage areas.
"Equipment theft rates generally mirror the overall economy; in this new environment, theft patterns prove to be difficult to predict and all areas should consider equipment theft to be a viable threat over the holiday," says the equipment registry site.
Of special interest to equipment thieves during the holiday: compact tracked loaders, skid steers and compact utility loaders (mini skid steers). These thieves targeted several brands, including Deere, Kubota, Bobcat, Cat and Wacker Neuson. (Compact machines can seem like an easy grab-and-go, although thieves found out differently when they stole a CTL from Kubota dealer earlier this fall.)
"Small steps and minor attention to details may be all it takes to deter an opportunistic thief that is targeting your area," says NER, which offers these tips — along with a handy downloadable infographic — to combat the loss of equipment during this and any time of year.
Ensure alarms and lighting are all operating properly.
If you are getting a high number of false alarms, thieves may be testing your responsiveness; watch for vehicles "casing" your property. Contact local police.
Test cameras in daylight and after dark. Are you getting usable images of license plates, faces, and vehicles?
Make sure fences and gates provide a complete barrier to adjoining businesses and vacant land. Don't assume they are intact. Walk your fence line to be sure nothing has been tampered with.
Conduct a security survey of the yard and buildings. Walk around the property to see if there are vulnerable points of access or cover.
Move light or highly targeted equipment into service bays or more secure areas of the yard.
Be sure where machines and trucks are parked does not provide cover to thieves.
Communicate with neighboring businesses, especially those which will be open during the holiday; raise their awareness so that thefts in progress are recognized. Be sure their staff have your emergency contact information.
Designate someone to check up on the facility at different times during the holiday. Random activity at your location could spoil a thief's planning.
Don't leave anything on a trailer. Secure any trailers, whether loaded or not, so that thieves cannot use them to steal your equipment.
NER also says to be watchful of activity that seems out of place, such as:
Trucks parked at rental yards and dealerships that do not belong to the company- especially box vans, U-hauls and enclosed race-car hauler type trailers.
Vehicles parked in vacant lots and parking lots adjoining closed industry businesses, especially with occupants loitering in the area.
Gates left open at industry facilities when it's clear the facility is shut down.
Late night or early morning activity inside a yard, construction site, farm or store throughout the holiday.
Overloaded trucks and improperly secured equipment transported throughout the holiday.