Construction companies have so far received the most money approved by the federal government's Paycheck Protection Program, designed to help small businesses pay employees during the coronavirus pandemic.
The construction sector has captured 13.1 percent of the forgivable loans that have been approved under the PPP, for a total of about $44.9 billion through April 16, according to the U.S. Small Business Administration.
The program stopped taking applications April 16, reporting it has run out of funds. The program began with $349 billion. As of April 16, the SBA reports it has approved $342.3 billion in loans from more than 1.6 million applications. The average loan size is $206,000, the SBA says.
The Senate passed a bill Tuesday that would add $310 billion to the program so it can resume lending. The House is set to take up the bill Thursday.
The SBA and treasury secretary are urging Congress to approve more funding.
"The SBA has processed more than 14 years' worth of loans in less than 14 days," says a statement from the SBA and the Treasury Secretary. "The Paycheck Protection Program is saving millions of jobs and helping America's small businesses make it through this challenging time."
Here's a breakdown of the loan approvals, according to April 16 data from the SBA: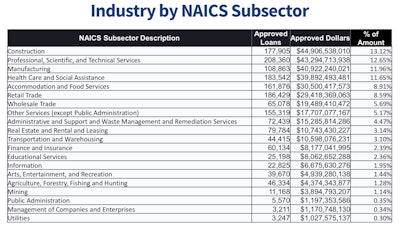 Note: This story has been updated to reflect Senate passage of additional funding.