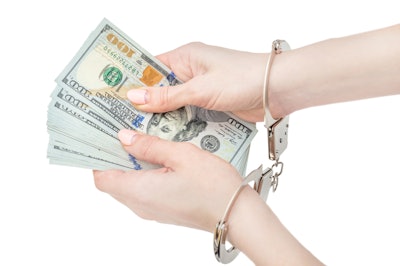 Apparently a 1969 Ford Shelby GT500 is a necessary addition to contractor's fleet.
Two Shelbys — a convertible and a two door, both valued at $160,000 — were part of the loot purchased by the ex-controller of a construction firm, who set up a residential construction company to bilk Pittsburgh-area Marco Contractors out of $8.7 million. Seemingly fans of classic cars, Sue O'Neill, 55, and her unidentified business partner used the stolen funds to buy a 1953 Mercury Monterey, 1966 Pontiac two-door GTO, 1969 Ford Mustang and a 1978 Chevy 2T Corvette.
Along the way they managed to buy some more traditional construction equipment, including a couple of trailers, a compact track loader and compact excavator.
O'Neill entered plea of guilty in September and will pay mandatory restitution as directed by the court, including $428,710 in back taxes and fines. She is subject up to 20 years in prison; sentencing is scheduled for March 26th.
According to an October 31st court filing, O'Neill started embezzling from the commercial general contracting firm in 2009. Over the years she issued $6.7 million in checks from Marco that were directly deposited into the account of Bulldog Contractors, a firm O'Neill owned with another person. Another $2 million went into O'Neill's personal bank account, according to a press release issued by the Western District of Pennsylvania U.S. Attorney's Office.
(The additional person was not identified in court documents beyond the initials "R.G." The Pittsburgh Post-Gazette reports that "online records indicate that Bulldog is owned by Robin L. Gabel.")
O'Neill also defrauded Marco's concrete flooring subsidiary, Rockertz Incorporated. She is liable for $8.5 million in restitution to Marco Contractors and $215,000 in restitution to Rockerz.
Crime of opportunity
The two Shelbys don't even rank as the most expensive item we've reported on that's been purchased by a construction-related embezzler. Those honors go to a $900,000 first-edition Batman comic bought by Anthony Chiofalo, who received a 40-year sentence in 2014 after embezzling $9 million from crane maker Tadano America.
It also points to the mind set of many embezzlers, say experts. The initial crime starts with a perceived need, but can quickly evolve into luxury buys.
Embezzlement is a crime of opportunity, reports Marquet International, a business risk consultant. Marquet says more than 70 percent of those who embezzle hold financial positions within a company, from bookkeeper to chief financial officer.
Experts say there is no "embezzler profile." They could be almost almost anyone; indeed, most are first-time offenders with clean employment histories, says the Association of Certified Fraud Examiners.
That doesn't mean there aren't red flags. These include a sudden flash of wealth, a territorial attitude to their office space and a reluctance to take vacations. (Go here for the Top 10 signs you may be being embezzled.)
O'Neill and her partner used a common embezzlement tactic: setting up a fake vendor. Other schemes include:
Altered checks: After a check is signed, the embezzler alters the amount or the name on the check. Instead of paying $1,000, a company is paying $11,000 with the embezzler pocketing the difference.
Lagging receivables: Client A pays on time and some or most of their payment is diverted to the embezzler. When Client B pays, their payment goes into Client A's account, and so on down the line.
Diverted supplies: Embezzlers place an order for three computers, and the company receives one while the other two are sold on eBay.
Phantom employees: An employee may have left your company last year but payroll is still cutting them a check — giving the embezzler a bonus.