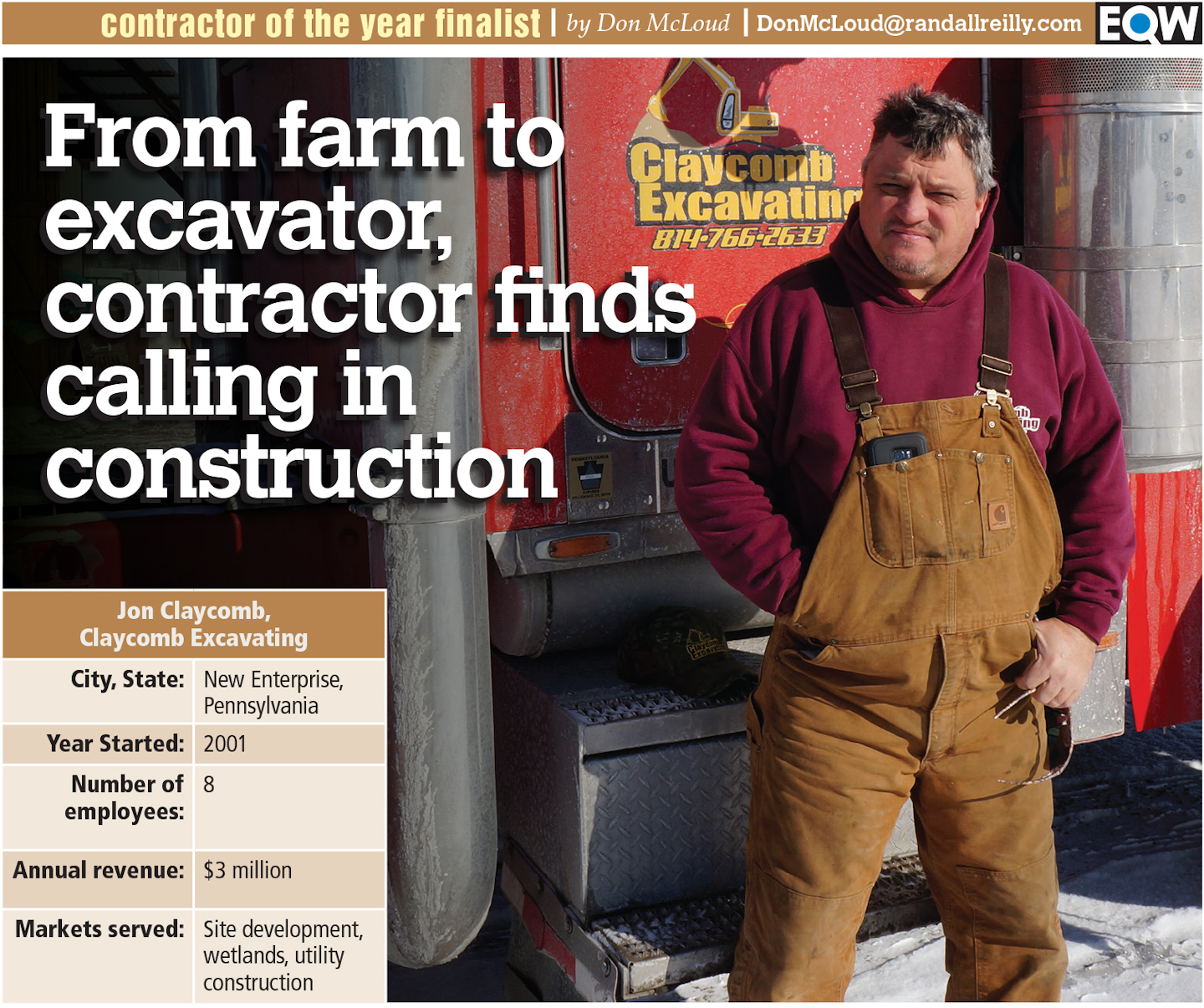 Jon Claycomb ran the family dairy farm for four years and expected to remain a farmer for the rest of his life. But in 1989, the milk market started to decline.
He decided to look for another job when the family made the decision to sell the farm.
A nearby excavating company needed a worker. Jon started out doing general labor and laying pipe.
"It was all new to me," he says.
But he caught on quickly. The work ethic his parents instilled in him at an early age also came into play. A year and a half later, he was operating excavators and building his reputation with local contractors for quality work and being dependable.
In 2001, after learning the ropes of residential work, including foundations and land-clearing, he decided to go out on his own. It was a big leap. He had two jobs lined up. He took out a loan from a local bank to buy a used E120 Cat excavator, an old skip loader and a dump truck. He also bought a Cat 953 track loader from Valley Track Services, whose owner Dave Martin, helped Jon get his start.
Claycomb Excavating was born.
'They worked tirelessly'
It was a slow start.
While Jon was getting the business started, his wife, Lois, was keeping the home afloat financially through her job as a ranger with the Army Corps of Engineers.
"She carried a lot of the bills until we got going," Jon says.
Jon's big break came in 2003 when he landed the dirt work for a nearby sewer treatment plant. It was a $100,000 job. "That was big money back then," he says.
The company began bidding more work and winning site and pipe-laying jobs. It branched out into industrial and commercial building work.
Lois joined the business in 2004 to run the office and serve as the safety leader. She also brought her talents in wildlife and wetlands management to set up what the Claycombs called their "tree division." The work involved planting up to 50,000 seedlings a year after timberland had been harvested. She also helped the company branch out into wetlands restoration and mitigation work. She handles the wetlands planting designs and vegetation placement, while Jon handles the excavation work. She also makes sure the stringent environmental and safety rules are followed.
"The work they do requires a high degree of skill, and we're apprehensive about getting anybody else in there," says Chris Clouser, owner of Blue Acres LLC, which hires Claycomb for wetland and stream restoration. "Because with them, you don't have to babysit."
The nearby municipalities have also come to rely on Claycomb. The company gets calls at all hours of the day and night for emergency utility-line breaks.
In one instance, Claycomb workers toiled 24 hours straight in freezing weather to fix a broken water line that had undermined a main road in the Roaring Springs Borough.
"The only thing that kept it from falling in was the frost," Jon says of the road. "School buses were running over it and everything else."
"They worked tirelessly to get that job done so they could get that road back open," says Ryan Enck, Claycomb's sales rep with the Cleveland Brothers Cat dealership. "I know Roaring Springs Borough was impressed with Jon. He'll bend over backward for people. That's just the type of guy he is."
That sense of responsibility and his quality work have earned him lots of fans around town.
"He always has ideas and solutions, and he's always looking out for me and the organization," says Chris Reighard, who has hired Claycomb when building retirement communities for the nonprofit Allegheny Lutheran Social Ministries. "I can only sing his praises."
'We all work together'
Claycomb has grown to a $3 million company. Jon credits its success to his eight employees, most of whom grew up on nearby farms just as he did.
"The guys who work for him, they're all like a small family," Enck says.
Jon says most of his employees have been with him from the company's beginnings.
"We've been pretty lucky," he says. "We haven't had to hire too many people."
Jon acknowledges though that the company needs to attract some younger workers.
"We do need to get some young people in here because we're all wearing out," he says of himself and his employees.
He's hopeful that his son, Parker, who turns 23 this month, will one day take over the business.
Parker grew up with the company and has the skills to run it, Jon says. "When he was 5 years old, he could load a dump truck with slate, and he was good at it."
Parker, however, had left the business for a career in trucking, but returned last April and is still considering his future. Lois says his main concern is that he won't be able to find new crew members to help him run the company when the current crew retires.
"He wants to do it," she says, "but to have a crew like we do, the kids his age – he's concerned."
The tightknit crew runs like a well-oiled machine. Lois says her brother, who helped out on a job one day, gave her this description:
"They're like a bunch of ants and everybody knows their job. Nobody talks, they just nod and shake their heads. They just know what needs to be done, and they just do it."
"We get in there and we get it done," Jon adds. "We don't leave the job until we have a finished product. And if it takes an extra hour to make it look better – do it."
Jon also believes in paying each worker the same rate, from the laborer to the operator, on the company's prevailing-wage projects. They each make the same higher pay grade of the operator.
Lois challenged that for a while until she worked on a job as a flagger.
"I know why you pay them all an operator's rate," she recalls telling Jon, "and I'll never argue with you again.
"We all work together."
'We'd like to slow down'
Jon and Lois recently have been trying to dial back their work pace and some of their side activities. They decided to sell their race track, where they held local car races. Jon has always been a racing enthusiast. He and Parker compete in tractor pulls with a tractor they built together with help from a friend.
But the real need to slow down came about two years ago when Jon had a heart attack.
"It kind of changes your perspective on life and what you should be doing," Lois says. "We'd like to slow down and start enjoying …"
"What we have," Jon says, completing the sentence.
"I can't do as much as I used to," he adds, "and I'm supposed to be slowing down."
That's easier said than done.
"I'm not supposed to run equipment, but I can't get off of it," he says of his love for operating machinery.
He prefers being outdoors to office work, happy to be in the field with his crew. And he's glad he found a career in construction.
"I always wanted to have a farm, to be a farmer, and this was the next best thing I could do," he says.
"I kind of like this better now," he adds and laughs. "I don't have to deal with the animals."