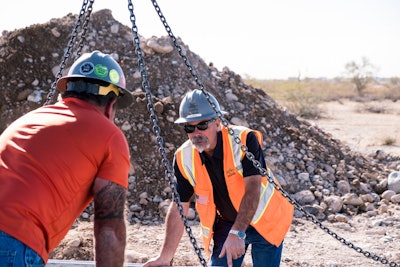 Dan Steffey had the job. His boss just didn't know it yet.
Two weeks earlier, he and his family had hopped into their Mercury Capri with all their belongings stuffed into a 4×6 U-Haul in tow and made the move from Seattle to Peoria, Arizona.
Steffey had spent much of that time standing in line for backhoe jobs listed in the newspaper before walking into a mom and pop excavation business and demanding an audition from the owner's son.
"I said, 'Look man, I am the real deal and I am not leaving this office until you've agreed to give me a shot,'" he recalls. "'You're going to send me out, let me work for you for a week for free. If you like me, hire me. If you don't, then don't.'"
Shortly after meeting Steffey, you realize he is not someone who has been told "no" a lot in life. Not because of a sense of entitlement, but because he rarely puts himself in the position to be denied.
The owner's son agreed to Steffey's…let's say…request. Within five minutes of hopping into the backhoe, Steffey says, the owner hired him.
Steffey Excavating, the company Steffey co-owns and runs with his partner and wife, Marsha, wouldn't come for another 14 years. But that day in 1986 when he walked into a business and, for all intents and purposes, hired himself, cast a mold for the rest of his professional life.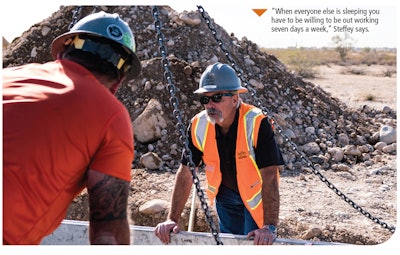 Chasing the work
Steffey started working in construction when he was only 10 years old. Each summer from the ages of 10 to 18, he would travel between Newburg, Oregon, and Seattle, Washington, to work for his uncle's construction company.
"He made sure I started at the bottom, too," Steffey says of his uncle, R.C. Smith. "I was a grunt at first."
Upon graduating high school, Steffey made the move to Seattle and worked with his uncle another four years before deciding he'd likely find more stable work if he left the cold and wet weather of that city for the drier climate of the desert.
Steffey worked in his first job for about seven years before leaving and becoming project manager at Pauley Construction. In that role, Steffey says, he had the opportunity to build his own organization within that company's structure. It gave him his first experience at calling all the shots while still allowing him to have boots on the ground to see those decisions through.
While working for Pauley, Steffey ran into his previous boss Charlie Croft on a jobsite one day. The two had become friends, and Steffey considers Croft a key mentor in his life. Croft explained to Steffey that he had fallen ill and asked if he would come back to run the company for him until he got better. Steffey agreed and spent two years at the helm of Croft LLC.
With a lot of leadership experience under his belt and Croft's health improving, Steffey was ready to start his own business. And after another brief stint at Pauley, he did just that.
When a dream turns into a downturn
Steffey Excavating was established in 2000, the realization of a long-held dream for Steffey, who says none of it would have been possible without his wife and vice president, Marsha.
The company started out with three Cat 420 backhoes and an ambitious mindset: never be a sub.
"I decided if I was going to start my own business, why should I be a subcontractor?" Steffey says with a smile. "I just always saw subcontracting to be losing 30 percent right off the top. Why shouldn't I go work direct for the man?"
The company grew quickly, reaching nearly 85 employees by 2004. "It was a monster," Steffey recalls. "We wouldn't do a job with less than 3,000 to 5,000 lots. We had five excavators going, and my guys would literally open 30,000 feet every 10 days."
Then the downturn hit. "It was bad," Steffey says. But if not for a gut feeling and Steffey's aggressive business acumen, it could have been much worse.
"In 2008 I was driving around, hitting 10 to 12 jobsites each day, equipment and people all over the valley," he says. "And one day, something just didn't feel right."
Steffey says his phone wasn't ringing and it had been a while since the company had bid a job. Back at the office he noticed a flyer for an auction coming up two miles from one of his jobsites.
"I sold every piece of equipment I owned after having that feeling," he says. "Four weeks later the market dropped."
Lessons learned
When the market collapsed, Steffey says, his top priority was paying off his bills. Once that was done, he went back to renting equipment for every job. "I kept the best 15 guys I had, and we tried for another nine months," he says. "After we blew through $1 million trying to keep the doors open, we shut everything down save for me and my son going out and taking small jobs."
That went on for a couple of years. Finally, in 2010, Steffey says, he told Marsha it was time to start ramping things back up. Steffey says he likely could have built his staff back to the 80 to 85 people he had before the downturn. Instead, he opted to remain nimble with a smaller crew and between 10 and 20 percent of his fleet on rental.
"I want 25 to 40 people because I want to be an active owner," he says. "I don't want to be a shiny-shoes owner or executive. I want to be a worker and feel the pulse of my company."
While Steffey spends most days either on or driving between jobsites, Marsha runs the business end from an office that sits just a few feet from their home. She handles all of the company's accounts receivable and accounts payable while assisting their daughter Jen, the company's project coordinator.
The company brought in $6.5 million in 2017, employs 38 people and today performs both wet and dry utility installation primarily for residential projects. Steffey says he has plans to expand into the commercial market as well.
"At this point, it honestly feels like we've been doing this forever," Marsha says. "But at the time, I didn't even know how to run a computer."
"But everything gets easier once you realize you don't need more than 2 to 3 hours of sleep each night," she adds with a laugh.
Marsha also maintains a relationship with all of the company's vendors.
"That's really important to me. If there was ever a problem and Dan couldn't come in, we try to make ourselves as familiar as possible with all of that in case we have to run the business by ourselves," she says.
"When everyone else is sleeping, you have to be willing to be out working seven days a week," Steffey says of his philosophy on success. "People complain that they never get ahead in the world, but they're only willing to work 40 hours a week. If you only work 40 hours a week, you're not going to make it."