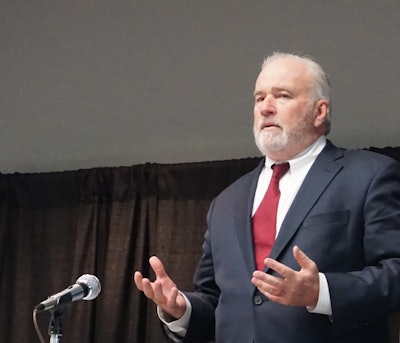 There's good news amidst the confusion and uncertainty of the government shutdown and Wall Street market volatility: Main Street is still rock solid, says Ed Sullivan, executive vice president and chief economist, PCA.
"With unemployment now below 4 percent, and the expectations for a generally strong labor market to continue, that provides tremendous support for both the general economy and construction," said Sullivan, delivering his annual forecast at World of Concrete. "What happens in labor is tied to everything."
In addition, inflation is starting to increase but is still relatively benign, Sullivan said, citing the Federal Reserve's steady increases in interest rates. And there's still room for growth in this economic cycle. "Typically a recession follows two years after growth is more than 60 percent, but we're not even at 40 percent, so there's still some room to run," said Sullivan, citing figures by Moody's Analytics.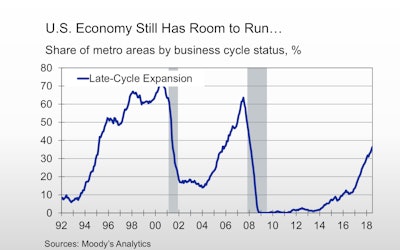 "There also tend to be more room to grow in the Southwest because they joined the economic recovery later," he said.
As always, though, there are several issues emerging, including labor shortages. "Construction used to think it was just us, but it's everywhere," Sullivan said. Wages are accelerating so the Fed will continue to raise rates.
With unemployment now at 3.8 percent, PCA says the construction industry, now at 7.2 million workers, will need 8.5 million workers by 2023. "Our wages will have to accelerate faster than in other industries," Sullivan said.
There are two concerns on the public construction front, Sullivan says. The first is the creation of huge state deficits during the recession. Even though revenues are increasing, costs – especially those surrounding Medicare and Medicaid – keep rising. "Revenues aren't keeping pace," Sullivan said. "If it comes down to the simple choice of paving a road or helping grandma, grandma will always win."
"Because of this," he continued, "the next infrastructure program must be completely financed and not add to the debt." And it's not likely that it will happen until after the next presidential election.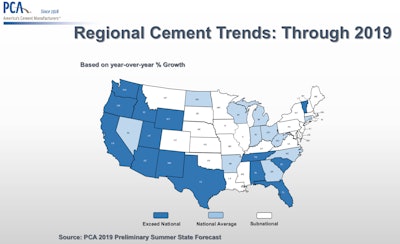 .