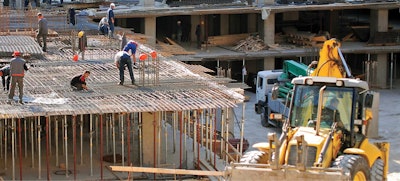 Following two months of gains and an all-time high in May, U.S. construction spending dropped 1.1 percent in June with declines in both residential and nonresidential projects.
Spending fell to a seasonally adjusted annual rate of $1.317 trillion, according to preliminary data from the Commerce Department. Despite the month-to-month decline, spending remains 6.1 percent above the June 2017 rate.
"There appears to be plenty of demand for construction despite the drop in spending reported for June," says Ken Simonson, chief economist for Associated General Contractors of America. "The estimate for May, which was already a record high, was revised sharply upward, as were numbers for April. These revisions show that the June total may be higher than initially reported and that it is wiser to focus on longer-term trends, such as the year-to-date totals for the first half of 2018 compared with the same period in 2017. Those numbers show a healthy increase in spending."
When combined, the first six months of 2018 show a 5.1-percent increase in spending when compared to the first six months of 2017, Simonson says.
Year-to-date, public spending on highway and street construction rose 4.2 percent while private spending on single-family homebuilding jumped 9 percent. Private spending on multi-family homes fell 0.7 percent in the first six months and private spending on power construction dipped 0.8 percent.
During the month of June, private spending on home projects fell 0.5 percent to a rate of $568 billion, but remains 8.8 percent above the year-ago rate. Spending on new single-family homes fell 0.4 percent to a rate of $287 billion, while spending on multi-family projects fell 2.8 percent to $60 billion.
Total spending on nonresidential projects fell 1.6 percent during the month to a rate of $742 billion, but remains 4.2 percent above the June 2017 rate. The top percentage declines in nonresidential were educational, down 9.3 percent to a rate of $88 billion; conservation and development, down 2.6 percent to $8 billion; and commercial, down 1.9 percent to $91 billion. Top percentage increases belonged to amusement and recreation, up 3.3 percent to $26 billion; manufacturing, up 1.1 percent to $61 billion; sewage and waste disposal, up 0.9 percent to $22.5 billion; and public safety, up 0.9 percent to $9.377 billion.
Private sector spending on construction projects fell 0.4 percent in June to $1.019 trillion, while government spending fell 3.5 percent to $297 billion.