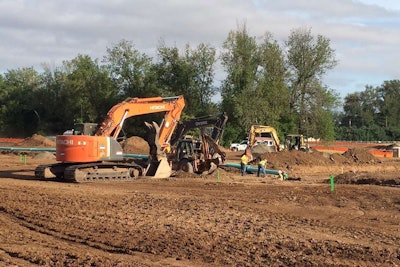 Construction spending in the U.S. reached an all-time high in May on the strength of homebuilding—both from the public and private sectors.
According to the latest data from the Commerce Department, spending rose 0.4 percent in May to a seasonally adjusted annual rate of $1.309 trillion. Private sector spending rose 0.3 percent to $1.005 trillion, while government spending rose 0.7 percent to $304 billion. U.S. construction spending is now 4.5 percent higher than it was one year ago.
"Public construction spending has increased strongly for the past nine months and is now at the highest level since 2010, led by a rebound in infrastructure investment," says Ken Simonson, the chief economist at the Associated General Contractors of America. "Single-family homebuilding is continuing to expand, while multifamily construction has pulled out of a recent slump, but growth in private nonresidential spending remains modest and inconsistent."
Despite the record rate in spending, Simonson warns of the potential for rising material costs, due in part to the Trump administration's new tariffs on metals, and nationwide shortages of qualified workers to "stall all types of projects."
AGC of America president Stephen Sandherr says he is calling on President Trump to "avoid a damaging trade war."
Total spending by homebuilders rose 0.8 percent to $560 billion. That includes $519.5 billion in home construction spending from the private sector, an 0.8-percent increase, and a 1.4-percent increase from the government sector to $6.686 billion.
Private homebuilders increased spending by 0.6 percent on single-family homes to a rate of $288.2 billion, while multi-family home spending increased 1.6 percent to $62 billion.
Total nonresidential constructi0n spending increased only slightly during May, ticking up 0.1 percent thanks to an 0.6-percent increase from the government sector to a rate of $297 billion. Private spending on nonresidential fell by 0.3 percent to a rate of $451.5 billion.
Top percentage gains from total nonresidential spending were water supply, up 6.7 percent to $13.6 billion; conservation and development, up 3.9 percent to a rate of $7.8 billion; and public safety, up 2.8 percent to $9.5 billion. Top percentage declines were religious, down 9.8 percent to $3 billion; manufacturing, down 2.3 percent to $61 billion; and amusement and recreation, down 2 percent to $25 billion.
Of note, government spending on highway and street construction are up 5.8 percent above the May 2017 rate.