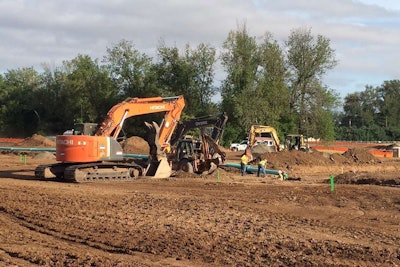 The start of construction on new homes in the U.S. rose 7.3 percent in January to a seasonally adjusted annual rate of 1.326 million homes.
The jump in starts more than makes up for the 7-percent drop seen in home starts at the end of 2017 where the rate of construction fell from 1.299 million homes to 1.209 million.
U.S. home starts are now 7.3 percent above the January 2017 rate.
Multi-family starts fueled the January jump, increasing 19.7 percent during the month to a rate of 431,000. Multi-family starts are 3.1 percent ahead of the year-ago rate.
Single-family starts saw a healthy 3.7-percent increase to 846,000 units in January. The single-family sector was responsible for the large monthly drop for total home starts between November and December mentioned above. Between those two months, the rate dropped 100,000 units to 846,000.
Single-family starts are currently 7.6 percent above the January 2017 rate.
Building permits, a good barometer of where the housing market is moving, rose 7.4 percent in January to a rate of 1.396 million and are up 7.4 percent from the January 2017 rate.
Builder confidence in the housing market, measured by the NAHB/Wells Fargo Housing Market Index, remains at a strong level. The February index was unchanged at a level of 72. Any reading above a 50 indicates most home builders believe market conditions are good.
"Builders are excited about the pro-business political climate that will strengthen the housing market and support overall economic growth," NAHB Chairman Randy Noel, a custom home builder from LaPlace, Louisiana, says. "However, they need to manage supply-side construction hurdles, such as shortages of labor and lots and building material price increases."
"The HMI gauge of future sales expectations has reached a post-recession high, an indicator that consumer demand for housing should grow in the months ahead," added NAHB Chief Economist Robert Dietz. "With ongoing job creation, increasing owner-occupied household formation, and a tight supply of existing home inventory, the single-family housing sector should continue to strengthen at a gradual but consistent pace."