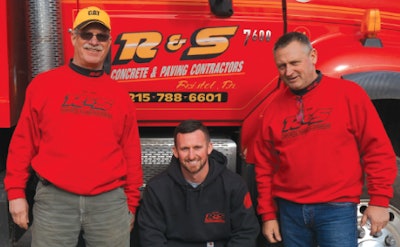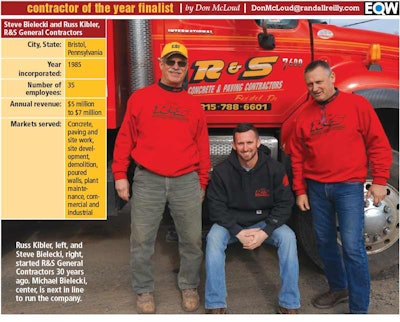 Tom Calkins watched in shock as the roof collapsed March 26, 2017, on his family's 102-year-old factory. A firefighter told him to get an excavator to help firefighters put out the flames.
A friend soon called after seeing the fire on local TV. A distraught Calkins said he needed an excavator.
"Call R&S," his friend replied.
Within an hour, Steve Bielecki and his son Michael of R&S General Contractors arrived with an excavator.
R&S didn't just stop there. Starting with a painstaking demolition and salvage operation, Steve and the R&S team were beside Calkins each step of rebuilding Railway Specialties Corporation, which makes watertight doors for U.S. Navy aircraft carriers.
"He wanted to make sure we stayed in business, that we could still keep 20 people employed," Calkins says, adding that Steve told him, "We're going to do whatever we need to do."
That do-whatever-it-takes attitude is the hallmark of R&S, which started in 1985 with two friends performing residential paving and concrete jobs after work and on weekends.
A few years out of high school, Steve Bielecki was working as a land surveyor in his hometown of Bensalem, Pennsylvania, and Russ Kibler was working in an auto body shop when they decided to team up. They started with an old backhoe, dump truck and trailer owned by Russ' father.
Steve and Russ say they were clueless about starting a business. They picked the name "R&S" by simply choosing the first letters of each partner's name. Russ was named president, since his initial comes alphabetically before "S." Steve is vice president.
"That was our business plan," Steve says.
Their first office was in Steve's basement and consisted of a drafting table and a typewriter. Steve's wife, Jody, kept the books while also raising their three sons.
"She'd watch us down there, trying to train us to behave because she couldn't run around the house," recalls son Michael Bielecki, who's now part of the R&S team and in line to take over the reins one day. "She'd be watching us, feeding us and trying to do all the billing, making calls."
Though they were working long hours, they weren't making much financial headway. In 1997, they realized they were actually losing money on the housing work.
"That's when we had to go to the next step," Russ says. "We hired good estimators that took us up to that next level."
They shifted focus to more lucrative commercial and industrial projects and moved into site prep. They built a reputation for quality work.
"Our biggest thing is quality," says Steve. "We're not going to be the cheapest."
Their clients have been willing to pay for that quality, many of whom have been loyal to them for years.
"If we had a choice, we would prefer to use R&S before we would use anybody else," says John Costello, owner of John P. Costello Construction, who's been hiring R&S for 15 years for subcontract work. "We absolutely never have a problem with their work."
Ron Lalulis of Commercial Coring & Sawing has been working with R&S for about 30 years. "I work for some of the same customers they work for," he says, "and I know they always go to them first when they need concrete work, curbing or utility work."
They have landed jobs with such large corporations as Merck pharmaceuticals, Fairless Energy and Dow Chemical and have become ISNetworld safety certified.
They now operate out of a complex with an office building, maintenance shop and a recently added warehouse. They have 35 employees they keep busy full-time year-round and 22 pieces of equipment, including backhoes, dozers, excavators, pavers and rollers. They operate their own fleet of 13 dump trucks.
They perform all their equipment and truck maintenance in-house and primarily buy only new equipment.
"Our equipment lasts at least 10 or 15 years," Steve says. "We spend a lot of money doing PMs, winter maintenance from teeth to hoses to all the way through the machine, on every single machine from a generator to the biggest excavator."
Their conscientious approach to their equipment helped them weather the Great Recession with no layoffs. When 2009 came, the company had only two loans. The buildings and property were paid off. Their equipment was in top condition, unlike many competitors who couldn't afford to maintain their equipment.
They kept employees on, even through the winter, by assigning them cleanup and maintenance work, even regularly waxing all the equipment. They also have kept their snowplowing business going.
Still, the recession wasn't an easy time. Steve was worried he would have to pull Michael out of Kings College, where he was studying business. Michael says he would have come home in an instant to help the company, but Steve begged him to stay and earn a degree.
"I can teach you what I know, but I can't teach you business," Steve says. "I didn't have that education."
Michael started working on jobs at age 12, shoveling on the paving crew, washing trucks, anything his father told him to do. Since joining the company full time after graduation in 2011, he's done most types of work R&S does, including residential, commercial and industrial projects and bidding on jobs.
"He's so advanced already," says Steve. "He can handle this."
"He's like his father," says Jody. "He eats, breathes and sleeps R&S and construction."
For Jody, being able to work each day with her son and husband has been a blessing, but one that also requires a firm rule. "Zero talk about business in the home," she says. "We keep each other in check."
She also separates family life from work, something she's been doing for 33 years as she helps to keep the company running as its controller and safety committee co-chair.
"She's the unsung hero around here," Michael says. "She's very underrated."
Russ, too, has had some family join the company. His brother, Cliff, has worked with R&S for 31 years and is a foreman.
Russ and Steve both credit their employees, many of whom have been loyal for years, with making the company a success.
"We owe our employees and their families a paycheck, whether we have work or we don't have work," Steve says. "And that's how we really keep our people. It's not R&S giving; they give back 100 percent."
Along with keeping employees long-term, Russell and Steve have managed to keep their partnership and friendship going for 32 years.
"We're two different people," says Steve.
"We're like night and day, but that's why it works."