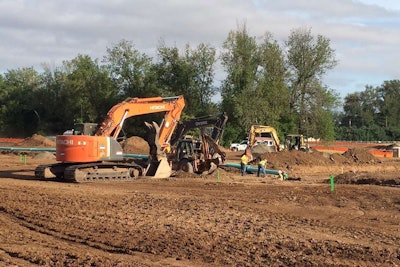 The Commerce Department has announced a revision to 10 years worth of construction spending estimates, correcting a calculation error that will likely lead to a boost in the GDP.
"In the November 2015 press release, monthly and annual estimates… for January 2005 through October 2015 have been revised to correct a processing error in the tabulation of data on private residential improvement spending," reads a footnote on the Census Bureau website where construction spending numbers are housed.
The announcement came along with the release of November's construction spending results which fell 0.4 percent.
MarketWatch reports that the Commerce Department calculates monthly construction spending changes through household surveys, taking into account population factors. After the department received calls that the improvements category looked as if it should be higher, the department investigated and found that it had been calculating those population factors into its report incorrectly.
As a result, the improvements category will see an upward revision across the last 10 years.
And as MarketWatch points out, residential improvements "account for about one-third of private residential spending, or 13% of the overall total. In November, improvements amounted to a seasonally adjusted annual rate of $144.26 billion."
That means a boost to the 2014 GDP from 2.4 percent to between 2.6 and 2.7 percent, IHS Global Insight US economist Patrick Newport wrote in a research note, adding that 2015 would likely see a boost as well.