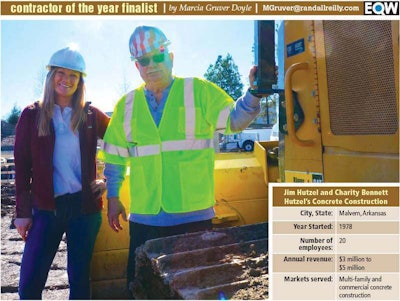 A general contractor on a housing project started Jim Hutzel on his path. Jim worked for him, and the GC liked what he saw in the young man. "Why don't you pour my concrete?" he asked him.
So, Jim began pouring footings in the 1970s, during a residential boom that lasted about four years. He followed clients from Illinois to Arkansas. Then the 1980s recession hit, and Jim was scrambling.
By that time, though, several large companies were familiar with his high-quality work. They asked him to travel, and he did. "On every job," Jim says, "you meet the people who head up the job, and soon I was doing apartment complexes."
It's that kind of networking that has not only sustained Hutzel Concrete Construction, but made it thrive. For example, by January of 2017, the $3-million-to-$5 million firm had all of its work lined up for the full year. Although their 2018 pace hasn't kept up – this spring was a wet one – clients want to make sure that Hutzel's is on their team. This includes Greg Stadler with general contractor Wolgast Corporation. "They are just an all-around excellent contractor," he says. "They are one of my favorite contractors to work with."
Have concrete, will travel
From the start, Jim has had no hesitation to as he puts it, "load up and go." Their crews stay mobile. As Jim explains it: "We like to get in and get the concrete done and get out."
Their mobility does create complications when retaining crew members, Jim admits. "Not everyone wants to travel," he says.
And then there's that little matter of hard work. "You'd better be willing to work," Jim emphasizes, adding that it's the same with him. "No matter where I am, I'm out working."
This past year, that hard work has enabled the company to build new office facilities on the family farm, about 50 miles southwest of Little Rock, Arkansas. Along with the office upgrade, they added the ability to print blueprints and a few other technological features.
Fleet matters
Skid steers and compact excavators make up the core of Hutzel's fleet; it's important that the transport weight is under 10 tons since their crews are so mobile. "Most jobs require a skid steer, and then we may add an excavator," Jim says. Some jobs will require a 5-ton, zero-turn compact excavator to work in confined areas. And an 8-ton compact excavator with a blade comes in handy when compaction is required. "We work around a lot of plumbing pipes and you have to know where your bucket is," Jim adds.
Jim usually trades in his compact fleet every three years. "They have to be running all the time, so we use the brief time between jobs to service them," he explains. This upkeep also ensures that he gets book value for his used equipment at trade-in.
The family core
Jim's wife, Carol, has been the lead person in Hutzel Concrete's office from the beginning. Carol has had a front-row seat to all the regulation, licensing and tax changes through the years, but says, "in general, it's the same job. Job costs are the most important."
And now Jim and Carol have been joined by their daughter, Charity Bennett. Charity began as the firm's safety director and is now also vice president. Her husband, Ky, is a company superintendent.
"Construction is what my parents have done my whole life," Charity says, "and when you know what they've done to create this company … well, I couldn't imagine being anywhere else." After joining the company full time in 2005, she got her undergraduate degree in small-business entrepreneurship and an MBA. Says Jim: "She's our technical go-to person."
"Even though we each have different jobs, as a team is how we get this done," Carol adds.
And at the advanced age of 7, Charity's younger son Sy seems ready to sign on for a third generation of the family firm, pestering his local dealer rep for Cat hats and keys, and running what equipment he can in his grandfather's yard. "If someone's around the equipment, he's there and he wants to know how it operates," Charity says. "He just loves it."
Riding the recession
"Student housing saved us during the recession," Charity says. Funding and demand slowed construction work during the downturn. So, Hutzel's transitioned to working for developers focused on student housing. "Dad always finds a way to keep things going," she says.
And the company seems to relish each challenge. "The most challenging and rewarding thing about what we do is that no pour is the same," Charity says. "We don't know how the job is going to go, each job is different, but we get it done."
Adds Carol with a chuckle: "And every time we end a job, we get fired. It takes a risk taker to do this."
The company has continued its student housing work, just completing a private complex in Oxford, Mississippi. It also continues to work on commercial projects.
Long relationships
Clients hope the Hutzel line is long running. "They go above and beyond any time we've asked them to do anything," says Rick McReynolds with multifamily builder Ridge Construction. "They are just an all-around excellent contractor."
With a relationship that has been going strong for more than 10 years, Hutzel's performs a variety of concrete work for Ridge Construction, including flatwork, post-tensioned slabs, pier and beam slabs, curb and gutters, sidewalks and poured concrete retaining walls. "We build 1,000 apartments a year and they do 90 percent of our concrete work," McReynolds says.
It's a pace that Charity wants to continue as she gradually takes on more responsibility. You feel the deep respect she has for her parents … and mentors.
"There's a certain degree of technology," she says, "and then there are the old ways that have gotten us to this point. I listen and watch what they do and what it takes to run this company. Even though I may question it, it's usually the best. It's not just the new that makes it better; it's the old and the new together."