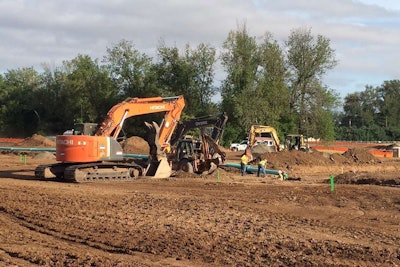 Though there are some concerning signs on the horizon, including President Donald Trump's tariffs on imported steel and aluminum, they won't stop the continued expansion of the overall construction industry through 2018 and into 2019, according to Bob Murray, chief economist for Dodge Data & Analytics.
Murray said the industry was able to absorb the last round of steel and aluminum price hikes in 2004 and 2005. "It really did not have much of an impact on overall construction starts," Murray said during a Dodge-sponsored webinar April 3. "…The industry was able to make substitutions and change projects to accommodate the increase in prices."
Trump's tariffs come at a time when industry watchers are also becoming concerned about rising interest rates and a shortage of qualified skilled labor. Murray believes that all of these issues combined will have a dampening effect, but the industry will still grow at a healthy rate through 2018.
He also predicts that the next construction market decline, likely in late 2019 or early 2020, will not be nearly as bad as the Great Recession. He predicts a 10-percent drop in construction starts versus the 24 percent drop that occurred in 2009.
Overall, he says, the current construction cycle has reached a point of deceleration, but still has some room to grow.
"We are seeing a deceleration, but it has not turned into a decline," he says.
Dodge data show that construction starts rose 6 percent in 2016 and 4 percent in 2017. He predicts a 3 percent rise for 2018. That stands in contrast to the 11 to 13 percent annual growth from the early days of the expansion between 2012 and 2015.
In the residential sector, multifamily construction had led the charge, and it is still doing well in various markets. But he predicts a 1-percent decline in multifamily starts in 2018 from 2017, with continued gradual declines. Single-family housing has surged in recent years, with a 9-percent increase in 2017. He predicts a 7-percent rise in housing starts this year.
The jury is still out on what effect the deep tax cuts approved by Congress will have on the housing sector. The cuts include a cap on local and state income tax deductions on federal returns and a cap of $750,000 on mortgage interest deductions. The changes could lead someone considering buying a home to reconsider, Murray said. However, that could also possibly lead to more demand for multi-family housing.
Murray predicts a 5 percent increase in commercial building starts, a 2 percent rise in institutional construction (hospitals, schools, convention centers) and a 5 percent increase in manufacturing building. Public works construction is forecast to decline 2 percent and electric utilities and gas plants are forecast to drop 6 percent.
"The recovery to date has been a moderate recovery," Murray says. "…We're not seeing the same rates of growth that we had before, but the market continues to function at a decent clip."