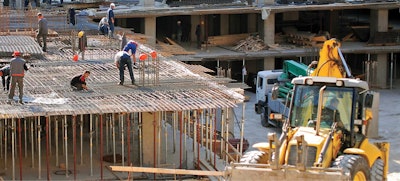 U.S. spending on construction projects was barely better than flat in February as a big gain in private spending was nearly completely offset by a dip in government spending.
Total spending reached a seasonally adjusted annual rate of $1.273 trillion in February and is up 3 percent over February 2017.
Private spending rose by 0.7 percent to $982 billion due to a 1.5 percent jump in nonresidential spending. Government spending fell 2.1 percent to $291 billion due to a 2.2-percent drop in nonresidential.
Due to the offsetting split between the two sectors, total nonresidential spending was just above flat at an increase of 0.1 percent. Top percentage gains were office, up 5.5 percent to $74 billion; lodging, up 3.2 percent to $32 billion; and water supply, up 1.5 percent to $11.5 billion. Top percentage declines were conservation and development, down 16.4 percent to $7 billion; public safety, down 5.7 percent to $9 billion; and commercial, down 4.9 percent to $40 billion.
Nonresidential spending is up 1.3 percent above the February 2017 rate.
Spending by private firms on residential projects increased 0.1 percent in February to a rate of $533 billion. Despite the slow month, homebuilding remains 5.5 percent above the year-ago rate. Spending on single-family homes rose 0.9 percent during the month to $282 billion, while multi-family spending rose 1.2 percent to $64 billion.