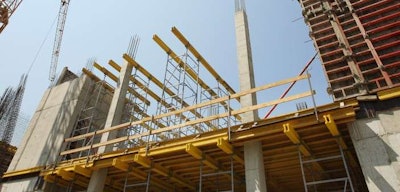 Planning for nonresidential construction projects continued to lose ground in September for the fourth consecutive month, according to the Dodge Momentum Index.
The index declined 8.4 percent from August, with institutional building dropping the most, at 11.5 percent. Commercial building planning fell 6.1 percent.
The index measures the initial report for nonresidential building projects being planned. In September, the overall index was 116.4, compared to 127.1 in August. (The year 2000 equals 100 on the index.)
Dodge says that though the index has declined for four straight months, "this should not be seen as a predictor of a turn in building markets." It notes that in previous years, the index has fallen for months only to rebound later, including between late 2016 and early 2017.
Dodge concludes: "Economic growth remains solid, and building market fundamentals are supportive of further growth in construction activity."
According to Dodge, 10 projects entered planning in September, each with a value of $100 million or more. A $200 million office complex in San Jose, California, and a $200 million mall in Staten Island, New York, led the commercial projects.
A $400 million civic complex in Los Angeles and a $100 million casino in Tulalip, Washington, topped the institutional projects list.