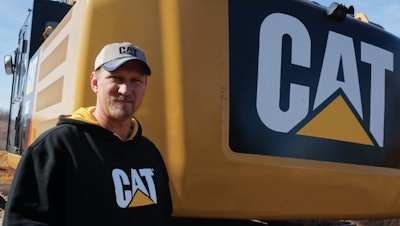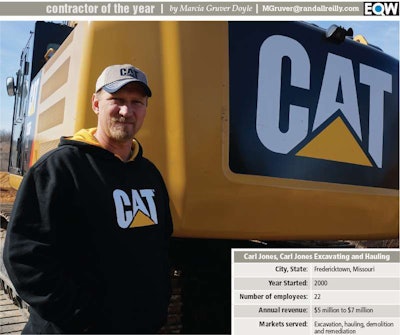 Maintaining a family feel while continuing to grow
When Carl Jones got out of the U.S. Marine Corps in 1998, his direction was clear: he wanted to run equipment. It didn't matter that all he had to start with was an old backhoe. He knew how to keep it running, and before long, he added a dozer and a dump truck to his yard. "The more I did, the more I got," is how Carl explains it.
His company, Carl R. Jones Excavating & Hauling (CRJ), began by constructing ponds, roads and installing septic tanks – basically "whatever I could pick up," he now says. "I did it by myself, then hired a guy to help me…and then I woke up one morning, and I had a bunch of people working for me."
CRJ does a mix of governmental and private work. And from the start, Carl's wife, Jonnie, has headed the office. As Jonnie puts it: "He knows everything on the outside, and I know everything on the inside."
Those inside duties include marketing, advancing and maintaining the company's Service Disabled Veteran Owned Small Business designation (more on that later) and overseeing the company's safety program. But Jonnie would maintain that her most important duty is being mom to their son, Robert, 18, a freshman at Mineral Area College, who eventually plans to get a civil engineering degree. Both Carl and Jonnie have high hopes that Robert will want to eventually take CRJ's reins, but emphasize that if that happens, it has to be Robert's choice.
In-house capabilities
CRJ's fleet now includes 11 excavators, 10 dozers and 12 artics, and the company performs most of its own maintenance. "There's not much we don't do in-house, including engine rebuilds, since we've got two different shops," Carl says. "And I was pretty much my own mechanic most of my life."
In addition to the shop adjoining his office outside of Fredricktown, Missouri, CRJ has one in Dexter, Missouri, which is more central to work he has in the southeastern corner of the state.
Job production demands, including a new $1 million Department of Natural Resources project, are prompting Carl to buy newer equipment. "You can only buy older equipment for so long. With our production, we can't get away with it." But buying is key; with the exception of 30- and 40-ton artics, he stays away from renting. "I'm better off buying, and I like to have some warranty on it."
The additional work has Carl eying a 50-ton excavator and a dozer. "It just depends on the work," he says. If it grows as he anticipates, he'll rent five more artics, with an eye toward purchasing a couple.
Can-do attitude
As a Marine, Carl served as a combat engineer in some extreme hotspots, including Somalia, Iraq and Guantanamo Bay. Because of injuries sustained during his tours of duty, his company is a designated Service Disabled Veteran Owned Small Business. Under this federal program, an annual 3-percent goal of the total value of all prime contracts and subcontracts is set aside for companies owned by veterans such as Carl.
The can-do attitude honed by the Marines serves him well as a company owner. "If my guys are working, I'm working," Carl says. "Last year, I had guys getting 60 or 70 hours (a week) all year long because it's so hard to get people." If there are no incidents, the crews get a bonus check every quarter. "I need them," he says. "I can't do this by myself."
Since several clients, including mines and quarries, require compliance with Mine Safety and Health Administration (MSHA) rules, CRJ crews have safety training above and beyond those required by OSHA. With a 0.94 experience modification rate, Carl says he preaches safety with a military perspective: "We're not on a battlefield, and I'm not carrying anyone home."
CRJ performs overburden removal at several Delta Companies' quarry sites, says Mike Martin with the firm. "They operate with the standard of doing things correctly the first time. We operate under MSHA's strict rules, and the typical dirt contractor is not used to dealing with them. But CRJ does a great job of knowing the MSHA rules, and when they come onto a mine site, they are ready to perform work safely."
"Carl and his wife, Jonnie, are the type of people that truly care about doing a job safely and correctly," Martin continues. "Both of them are the reason that we continue to do business with CRJ."
Another major client is The Doe Run Company, a natural resources metal extraction firm based in St. Louis, Missouri. "We do a lot of reclamation work for them, including closing slag storage areas," Carl says, as well as work that has to be approved by the Missouri Department of Natural Resources. (CRJ also does work for the U.S. Department of Natural Resources.)
"Even though they are large enough to offer a variety of services, they still have that small family feel," says Genevieve Sutton with Doe Run. "They make you feel like you are their most important customer."
Continues Sutton: "We had a lot of surprises on one particular job involving unexpected ground conditions, and they always kept me informed and were straightforward and fair. And they take safety seriously."
Adds Scott Jinks with client Capital Sand, a sand-and-gravel supplier based in Jefferson City, Missouri: "They are there for you, whether it takes long hours, or whatever. They'll be there all night for you."
"I'm just me," Carl says simply. "We know dirt and we know how to move it. And we work extremely hard at it."