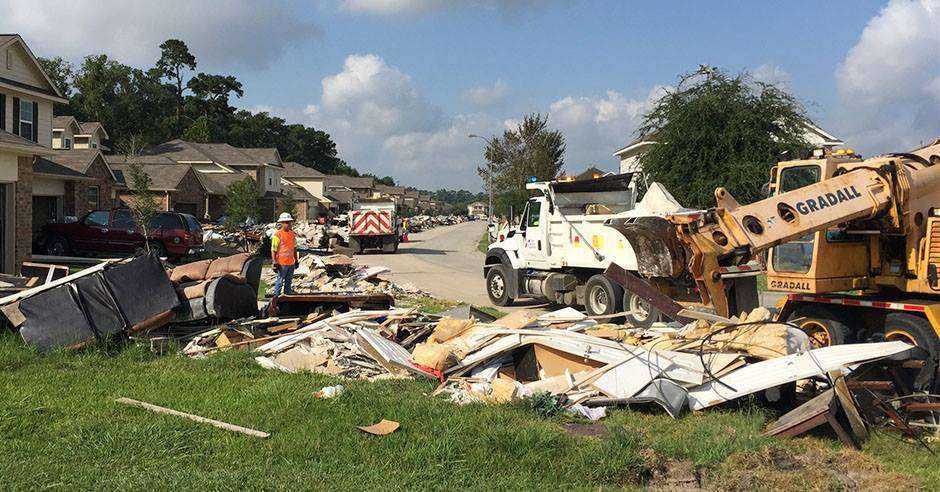 Hurricanes Harvey and Irma have left a wake of demolished homes and strewn debris, and also high demand for subcontractors who can load, haul and dump large amounts of material. Pay rates for subcontractors are also starting to rise, sometimes leading to bidding wars between local governments as communities become more desperate for relief.
That has left disaster-response contractors that must fulfill pre-storm agreements with municipalities for debris removal and other disaster services in need of anyone who's got large hauling trucks. If you have the equipment to load those trucks, even better; otherwise, you will be matched with a debris removal team. Experience is not much of an issue, which also means a great opportunity for a young or startup subcontractor looking to get some work and build relationships that could lead to years of future disaster-cleanup jobs.
"It's the most simple business to be a part of," says Kurt Thormahlen, general manager of DRC Emergency Services, which has debris-removal contracts with municipalities and counties in Texas and Florida disaster areas. "You take a guy, teach him in a few hours what he needs to do, and then he'll learn on his own on how to be more efficient. As long as he can load the back of a truck and be efficient doing that, then he's good. Everything is based on his ability to get as many cubic yards as possible in a day."
DRC, whose contract clients include the city of Houston also seeks to build long-term relationships with its subcontractors.
"We do everything from tornadoes, to floods, to hurricanes," Thormahlen says. "If we find a good subcontractor, we stay in touch with them and they're our first call. We've got some guys who have been with us for years. They stay loyal, and that's been their business, and they've done really well with it."
AshBritt Project Manager Sean Robinett said his company, which has debris-removal contracts in Florida and Texas, is also seeking subcontractors.
"We'll get all ranges of experience," Robinett says of subcontractors.
Most of the equipment consists of large hauling trucks and trailers with a knuckle boom and grapple, in which the driver self-loads. In a typical storm aftermath, these usually are the only types of debris-removal equipment in which subcontractors can make decent money. But pay rates in parts of Texas have risen, thanks to higher reimbursement rates for local governments from the Federal Emergency Management Agency and competition from communities wanting to get recovery operations underway. That means smaller contractors operating a dump truck with a wheel loader or skid steer can make good money, according to Thormahlen.
The city of Houston, for instance, has risen its rates from $7.69 per cubic yard of collected debris to $11.69. In Florida, some cities are paying as much as $15; whereas, others pay only $5.50 per cubic yard. The prices were set before the storm between local governments and contractors. But some contractors say they need to renegotiate for higher pay rates, because they can't hire enough subcontractors at the lower price. That's caused accusations from municipalities of price-gouging and failure to comply with contractual agreements. Florida Gov. Rick Scott has stepped into the fray and asked companies that will work for a "fair price" to contact the Florida Department of Transportation for work.
Meanwhile, Florida's congressional representatives have requested FEMA reimbursement on the same level as Texas, which could help the municipalities boost pay.
That can all mean good news for subcontractors.
Thormahlen expects debris removal will continue into December, with about 75 percent of it removed by mid-October.
Subcontractors interested in working for his company should call or, better yet, show up in person with trucks ready to roll, Thormahlen says.
After signing an agreement, workers will get a quick overview on how the system works and be put with a loading crew, or they can work on their own if they bring their own front-end loader, telehandler or skid steer to load their trucks.
DRC, AshBritt and other contractors also have webpages in which subcontractors can fill out information to be considered for work. Sometimes subcontractors will call the municipalities to find out who their contractor is to get in touch with them.
Thormahlen prefers subcontractors interested in finding work to come straight to the service yard with their trucks, as often promises of arriving trucks never materialize.
"If you show up and you're ready to go," he says, "then we'll put you to work right then and there."
Want to find work?
Many contractors seeking subcontractors for debris cleanup following Hurricanes Irma and Harvey have web pages that can be filled out for those interested in working:
DRC Emergency Services – To apply online, go to drcemergencyservices.net/opportunities. You can also contact by phone: Galveston, Texas, office (headquarters), 888-721-4DRC; West Palm Beach, Florida, office, 561-820-4877.
AshBritt Environmental – To apply online, go to ashbritt.com/subcontractor-registration/. Phone: 800-244-5094, corporate offices, Deerfield Beach, Florida.
Crowder Gulf – To apply online, go to crowdergulf.com/subcontractors.asp. Phone: 800-992-6207, main office, Theodore, Alabama.
Ceres Environmental Services – To apply online, go to, ceresenvironmental.com/opportunities/become-a-subcontractor.asp. To contact by phone: 800-218-4424, Sarasota, Florida.